Emma!
Meet Miss Emma!!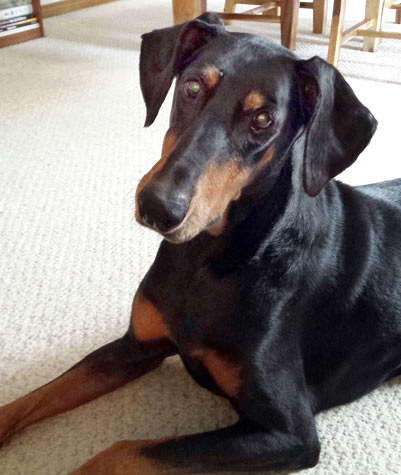 Welcome to my day at the Library!!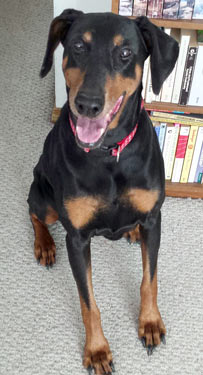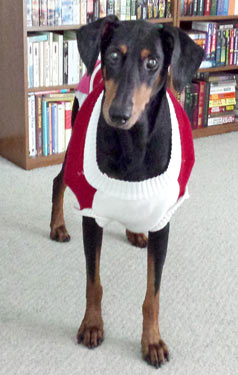 I read some grrrrreat books and there was even one called "Emma"
Now I'm ready to go home!!
Beautiful 10 year-old Emma was an owner surrender to rescue because they were moving overseas. She is safe in her foster home and can remain there the rest of her days but if the perfect adoptive home comes up that would be fine too. She is a sweet girl who loves spending her days watching TV, napping, and chewing on her toys but if you would like to take a walk, she will turn puppy on you! Emma is a great "squirrel hunter" and is fine with a dobie foster brother but doesn't care to play or rough house with kids. They are not in her retirement plan! She will be seeing a dermatologist soon for her skin allergy.
Special Needs if any: Incontinence, unknown skin allergy, borderline hypothyroidism, and arthritis.
Geographic Areas: Colorado and any surrounding state if a home visit can be done.

---
The Sponsor A Senior program helps Seniors by raising funds for their rescue programs. This helps offset some of the additional costs that come with caring for a senior (diet, medications, supplements, etc.). Please read more about this program on the Sponsor A Senior page.
Miss Emma is looking for a sponsor! The cost to sponsor a Senior Dobe is $40 per month or $480 per year. You can sponsor a Senior for one month, one year, or somewhere in between. To sponsor Miss Emma, use the PayPal button below or visit the Sponsor A Senior page for instructions on sending a check. Thank you for any help you can give, it is MUCH appreciated!