Cougar!
Meet Mr. Cougar!!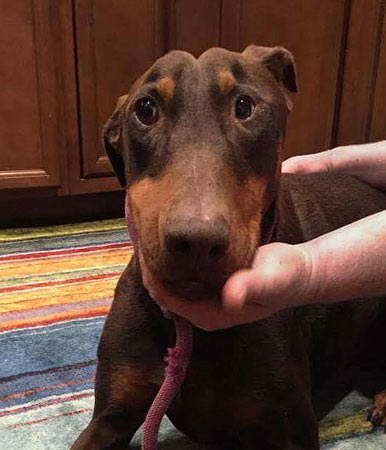 My "V" is for Victory - heart-shaped Valor!!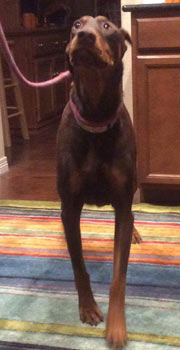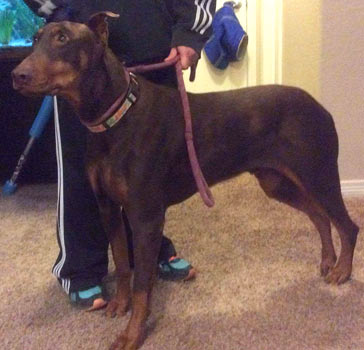 Apparently my Angels agree!!
Sweet 10 year-old Cougar was pulled from a shelter in Alamosa after his owner died. He appears to have spent his entire life living outside and the vet thinks he has suffered more than one trauma in his lifetime. He has an old injury to this right back leg and he will walk on it but for the most part keeps it off the ground. He has also suffered some type of trauma to his head because one of his eyes is sunken in a bit and he has a "v" shape to his skull. Still, with all that has happened to him he is just a big, 75 lb. love bug. He loves to be loved and will follow you around or sit/lay at your feet. He appears to be crate trained and has only had a brief introduction to two female dobes but has done well with them.
Special Needs if any: None
Geographic Areas: Colorado and any surrounding state if a home visit can be done.

---
The Sponsor A Senior program helps Seniors by raising funds for their rescue programs. This helps offset some of the additional costs that come with caring for a senior (diet, medications, supplements, etc.). Please read more about this program on the Sponsor A Senior page.
Mr. Cougar is looking for a sponsor! The cost to sponsor a Senior Dobe is $40 per month or $480 per year. You can sponsor a Senior for one month, one year, or somewhere in between. To sponsor Mr. Cougar, use the PayPal button below or visit the Sponsor A Senior page for instructions on sending a check. Thank you for any help you can give, it is MUCH appreciated!