Star!
December, 2012 - Rest In Peace, dear Miss Star!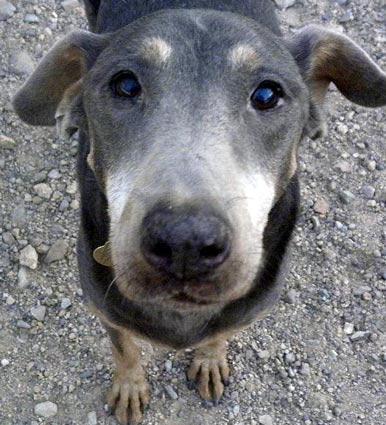 Meet Miss Star!! Will you be my respite??
Don't let the snow on my face fool you - your love can give me SPRING!!
This beautiful face belongs to Senior girl Star. At 12 years-old she was surrendered to the animal shelter and listed as spayed. However, she was actually pregnant! At her age it was feared she would not survive carrying the puppies to full term so the puppies were aborted. Star was so terrified of people when she first came to rescue, she would hide whenever she heard a raised voice. She is now thriving in her foster home and is at last enjoying her Senior years. Her favorite pastime is collecting avocados and napping on the sofa.
Special Needs if any: Needs TLC!
Geographic Areas: California and surrounding states.
---
The Sponsor A Senior program helps Seniors by raising funds for their rescue programs. This helps offset some of the additional costs that come with caring for a senior (diet, medications, supplements, etc.). Please read more about this program on the Sponsor A Senior page.
Miss Star is looking for a sponsor! The cost to sponsor a Senior Dobe is $40 per month or $480 per year. You can sponsor a Senior for one month, one year, or somewhere in between. To sponsor Miss Star, use the PayPal button below or visit the Sponsor A Senior page for instructions on sending a check. Thank you for any help you can give, it is MUCH appreciated!