Slider!
November, 2010 - Rest In Peace, dear Slider!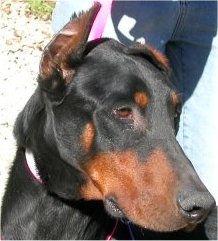 Slider is a sweet older Dobie of 7-8 years with poorly cropped ears and a docked tail. He is friendly and outgoing and his activity level belies his age: he acts more like a 3-year-old than a senior! We are afraid to free-feed him because his favorite activity is eating, so currently he is kenneled alone. However, we think he is social with other dogs, certainly females. We think he would do just fine as a family dog with older kids. Slider is neutered, micro-chipped, and up-to-date on his vaccinations.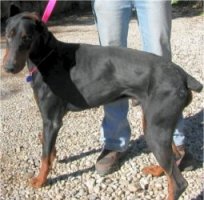 Doberman Pinscher Rescue is willing to place Dobermans in California or surrounding states. However, the adopter must agree to personally return the dog to Doberman Pinscher Rescue in the event the adoption does not work out.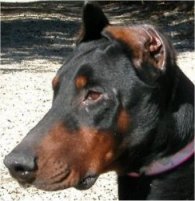 The Sponsor A Senior program helps Seniors by raising funds for their rescue programs. This helps offset some of the additional costs that come with caring for a senior (diet, medications, supplements, etc.). Please read more about this program on the Sponsor A Senior page.
Slider is looking for a sponsor! The cost to sponsor a Senior Dobe is $30 per month or $360 per year. You can sponsor a Senior for one month, one year, or somewhere in between. To sponsor Slider, use the PayPal button below or visit the Sponsor A Senior page for instructions on sending a check. Thank you for any help you can give, it is MUCH appreciated!
All rights reserved, Special Needs Dobermans, Inc. © 2002. Reprinting of material found herein without written permission is prohibited. "Dober'Toons!" are the property of L.Angele Laughlin-Semple, All rights reserved. Copyright © 1998, 1999, 2000, 2001, 2002 L.Angele Laughlin-Semple. Copying, linking and/or reproduction of any "Dober'Toons!" artwork on this site is denied without permission.