Morgana!
April, 2013 - Rest In Peace, dear Lady Morgana!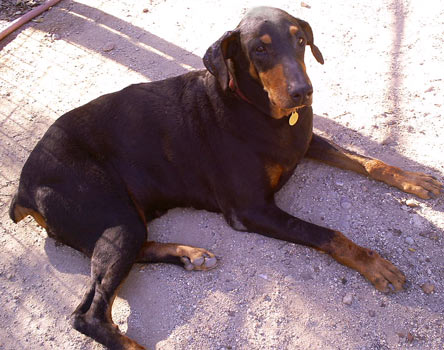 Meet Miss Morgana! Before...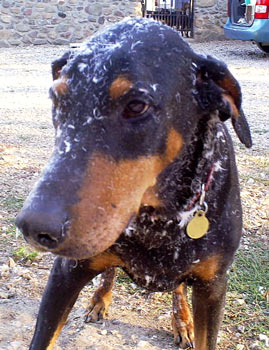 ..and After the pillow fight!! She WON!! That pillow is history!
Sweet 9 year-old Morgana is one of the rescues "free-roamers" on six fenced acres where she gets along well with the other Dobes. She has spinal disease and many benign lumps but she is not in any pain. Morgana is a happy girl and is always right there when treats are being handed out. One of her photos here show her on a day when she decided to show a feather pillow who was "boss."


Special Needs if any: Needs and gets love!

Geographic areas: N/A
---
The Sponsor A Senior program helps Seniors by raising funds for their rescue programs. This helps offset some of the additional costs that come with caring for a senior (diet, medications, supplements, etc.). Please read more about this program on the Sponsor A Senior page.
Miss Morgana is looking for a sponsor! The cost to sponsor a Senior Dobe is $40 per month or $480 per year. You can sponsor a Senior for one month, one year, or somewhere in between. To sponsor Miss Morgana, use the PayPal button below or visit the Sponsor A Senior page for instructions on sending a check. Thank you for any help you can give, it is MUCH appreciated!