Lutzy!
February, 2016 - Rest In Peace dear Mr. Lutzy!

You are so very loved, forever!!
Meet Mister Lutzy!!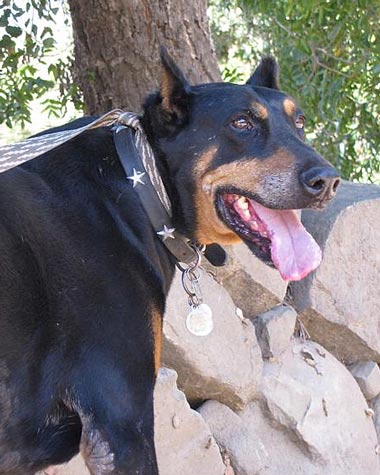 I hope my old friend's retirement digs are as nice as mine!!
...and, I got my tongue fixed!!
Ten year-old Lutzy's elderly owner had to enter an assisted-living facility and could no longer keep him. He has adapted well at the rescue ranch and has free-roaming privileges on a six acres fenced in area with other free-roaming Dobes who also have access to the house via the dog door. Lutzy was recently diagnosed with a walnut-sized tumor under his tongue after it was noticed he was bleeding from the mouth. The tumor was removed and now he has resumed his previous social duties at the rescue and eating a normal diet. The biopsy indicates the growth is a "low-grade" slow growing cancer that has not spread to other areas of the body. Lutzy is a mellow guy who is housebroken and very well behaved.
Special Needs if any: None
Geographic Areas: California and surrounding states.

---
The Sponsor A Senior program helps Seniors by raising funds for their rescue programs. This helps offset some of the additional costs that come with caring for a senior (diet, medications, supplements, etc.). Please read more about this program on the Sponsor A Senior page.
Mister Lutzy is looking for a sponsor! The cost to sponsor a Senior Dobe is $40 per month or $480 per year. You can sponsor a Senior for one month, one year, or somewhere in between. To sponsor Mister Lutzy, use the PayPal button below or visit the Sponsor A Senior page for instructions on sending a check. Thank you for any help you can give, it is MUCH appreciated!