Lolly!
February, 2016 - Rest In Peace dear Miss Lolly!

You are so very loved, forever!!
Meet Lovely Miss Lolly!!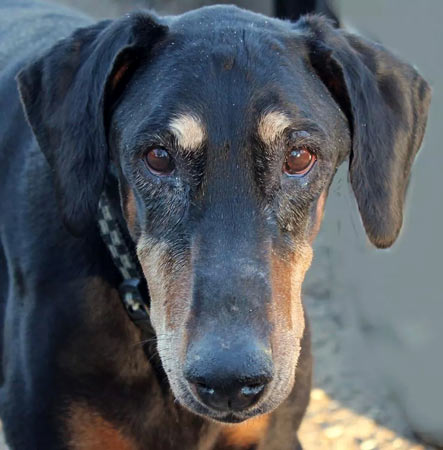 This Lovely Lady would just love to share her life with you!
I will be the sweetest Lolly-pop you'll ever meet!
Sweet Miss Lolly is an adorable, lumpy, old lady Dobe who is an easy girl and roams freely on the rescue's fenced acreage, sleeping inside. She get's so excited during the part of the day when "special" food is being handed out. Lolly doesn't argue with the other dogs at the rescue and reminds us all how much we love the old ones.
Special Needs if any: None
Geographic Areas: California and surrounding states.

---
The Sponsor A Senior program helps Seniors by raising funds for their rescue programs. This helps offset some of the additional costs that come with caring for a senior (diet, medications, supplements, etc.). Please read more about this program on the Sponsor A Senior page.
Miss Lolly is looking for a sponsor! The cost to sponsor a Senior Dobe is $40 per month or $480 per year. You can sponsor a Senior for one month, one year, or somewhere in between. To sponsor Miss Lolly, use the PayPal button below or visit the Sponsor A Senior page for instructions on sending a check. Thank you for any help you can give, it is MUCH appreciated!