Leo!
Meet Mr. Leo!!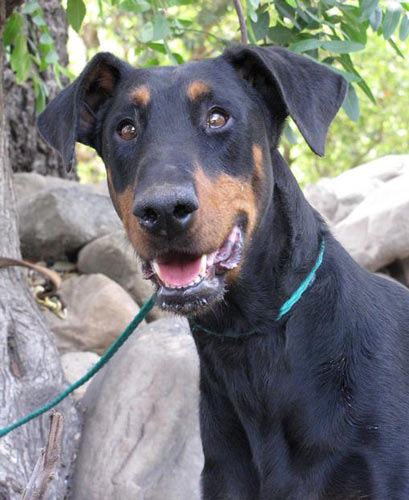 YES, LEO as in KING... of your heart?? Pretty Please??
Leo was pulled from a local animal shelter but he had belonged to a woman who was living in rental property, and the landlady was the one who authorized the shelter to take him when her renter wasn't home as she was not allowed to rent the property with dogs. Leo is enjoyable and affectionate so he is a favorite at the rescue. He's not very trusting of other dogs though, so if he feels uncomfortable or threatened in any way by another dog he will adopt the "best defense is a good offense" attitude and strikes first. Leo is hoping he can find an only dog home and is smaller than he average male Dobermans.
Special Needs if any: None.
Geographic Areas: Not Available.

---
The Sponsor A Senior program helps Seniors by raising funds for their rescue programs. This helps offset some of the additional costs that come with caring for a senior (diet, medications, supplements, etc.). Please read more about this program on the Sponsor A Senior page.
Mr. Leo is looking for a sponsor! The cost to sponsor a Senior Dobe is $40 per month or $480 per year. You can sponsor a Senior for one month, one year, or somewhere in between. To sponsor Mr. Leo, use the PayPal button below or visit the Sponsor A Senior page for instructions on sending a check. Thank you for any help you can give, it is MUCH appreciated!