Lars!
December, 2011 - Rest In Peace, dear Mr. Lars!

You will be remembered with love!!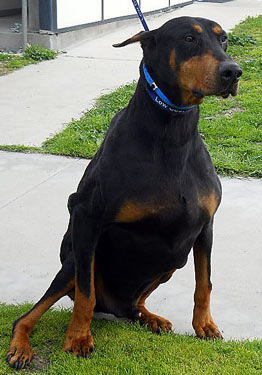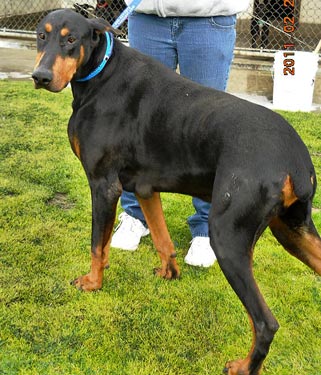 Meet Mr. Lars!! I've got plenty of what?? Lovin', that's what I say!!
Lars is a super sweet guy and although he has wobblers he gets around just fine. He loves spending his days hanging out in the yard with his dober girl friend Scarlett and likes his huge wire crate because it's next to the A/C vent in the floor. Lars needs an adopter or foster who understands his wobblers issue - otherwise he can hang out at the rescue for the rest of his days. Lars is a silly fella and can be rather talkative at times.
Special Needs if any: Needs a one level floor plan due to his wobblers.
Geographic areas: CA, NV, WA, OR
---
The Sponsor A Senior program helps Seniors by raising funds for their rescue programs. This helps offset some of the additional costs that come with caring for a senior (diet, medications, supplements, etc.). Please read more about this program on the Sponsor A Senior page.
Mr. Lars is looking for a sponsor! The cost to sponsor a Senior Dobe is $30 per month or $360 per year. You can sponsor a Senior for one month, one year, or somewhere in between. To sponsor Mr. Lars, use the PayPal button below or visit the Sponsor A Senior page for instructions on sending a check. Thank you for any help you can give, it is MUCH appreciated!