Kalia!
August, 2017 - Rest In Peace dear Miss Kalia!

You are so very loved, forever!!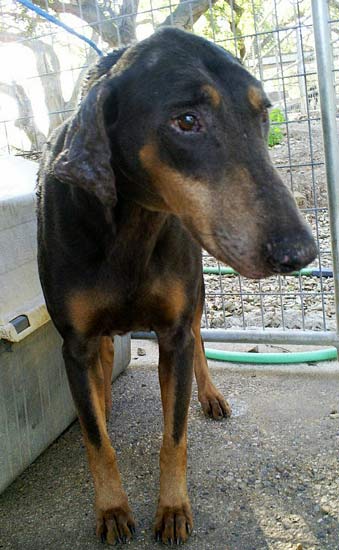 Meet Miss Kalia!! I'm a Lady who knows what she wants: LOVE!!
Kalia is a 9 year-old sweetie who is miserable in the kennel environment. Her fondest wish is to be attached at the hip to a beloved human. The rescue tried to allow her free roam of the six fenced acres but she started arguments several times with other female dogs. Kalia was adopted several years ago by a man who eventually moved and left her with his parents. Unable to provide maintenance for her ears, which tend to get infected if not monitored, she was returned to rescue. Kalia can be a bit snappish when required to do things she prefers not to do. Kalia needs a loving home with an experienced Doberman person who has no female dogs.
Special Needs if any: None
Geographic areas: California and the surrounding states
---
The Sponsor A Senior program helps Seniors by raising funds for their rescue programs. This helps offset some of the additional costs that come with caring for a senior (diet, medications, supplements, etc.). Please read more about this program on the Sponsor A Senior page.
Miss Kalia is looking for a sponsor! The cost to sponsor a Senior Dobe is $40 per month or $480 per year. You can sponsor a Senior for one month, one year, or somewhere in between. To sponsor Miss Kalia, use the PayPal button below or visit the Sponsor A Senior page for instructions on sending a check. Thank you for any help you can give, it is MUCH appreciated!