Jazzy!
September, 2015 - Rest In Peace dear Miss Jazzy!

You are so very loved, forever!!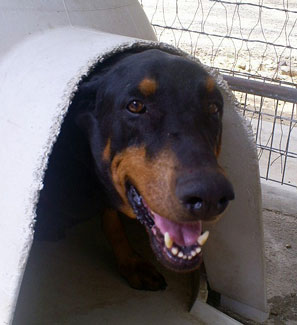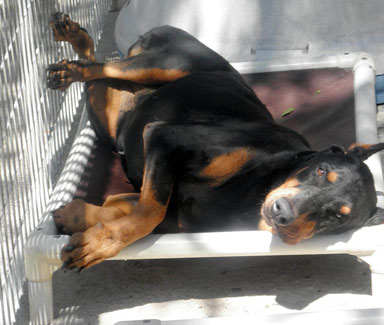 Meet Miss Jazzy!! Think I'll just lay down and kick up my feet!!
Have Kuranda... will travel!!
Sweet 12 year-old Jazzy thought she'd found her forever home but has been returned to rescue after one of her adopters passed away suddenly from a stroke at 48 years of age. Jazzy is an extra large Senior girl who is terrified with all of the sudden changes in her life. We hope her next forever home really will be forever for Jazzy! Will you be so lucky?
Special Needs if any: None
Geographic areas: California and the surrounding states
---
The Sponsor A Senior program helps Seniors by raising funds for their rescue programs. This helps offset some of the additional costs that come with caring for a senior (diet, medications, supplements, etc.). Please read more about this program on the Sponsor A Senior page.
Miss Jazzy is looking for a sponsor! The cost to sponsor a Senior Dobe is $40 per month or $480 per year. You can sponsor a Senior for one month, one year, or somewhere in between. To sponsor Miss Jazzy, use the PayPal button below or visit the Sponsor A Senior page for instructions on sending a check. Thank you for any help you can give, it is MUCH appreciated!