Igor!
March, 2016 - Rest In Peace dear Mr. Igor!

You are so very loved, forever!!
Meet Mr. Igor!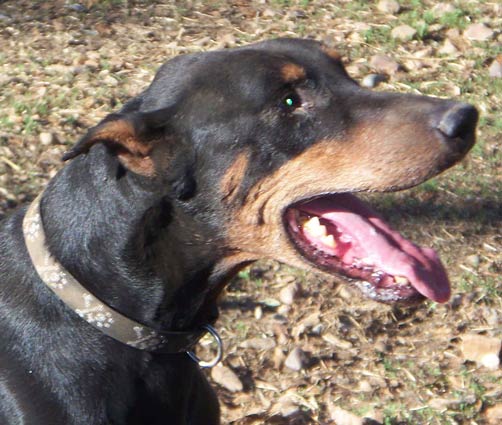 No... I have never worked for Herr Frankenstein!!
Igor is a 10 year-old Dober-gent who was picked up as a stray in Southern California and taken to a shelter. Rescue took him into their care and after a while he was chosen to be the new companion for a couple in Northern California. He had many happy years with them and later they even provided him with a Doberman girl friend for company. Unfortunately one of the owner's health was declining to where he needed to move into assisted living and his partner found it necessary to downsize from the house to an apartment. The new landlord would not accept the two Dobermans as tenants so the dogs moved to Northern California Doberman Rescue. Igor's Doberman girlfriend was only 5 years-old and she has moved on to a new home leaving Igor behind. He is beginning to show some mobility issues suggestive of Wobblers. He knows he has a forever home with Nor-Cal Doberman Rescue and hopes that someone with a soft spot for these retired Dober-gents will sponsor him.
Special Needs if any: None.
Geographic areas: CA, NV, WA, OR
---
The Sponsor A Senior program helps Seniors by raising funds for their rescue programs. This helps offset some of the additional costs that come with caring for a senior (diet, medications, supplements, etc.). Please read more about this program on the Sponsor A Senior page.
Mr. Igor is looking for a sponsor! The cost to sponsor a Senior Dobe is $40 per month or $480 per year. You can sponsor a Senior for one month, one year, or somewhere in between. To sponsor Mr. Igor, use the PayPal button below or visit the Sponsor A Senior page for instructions on sending a check. Thank you for any help you can give, it is MUCH appreciated!