Heckle! January, 2009 - Rest In Peace, Sweet Prince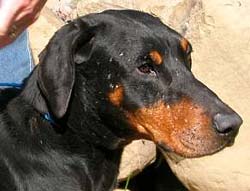 "Heckle." What a great name for a DoberDude! Heckle was rescued from a shelter and has been living at Doberman Pinscher Rescue in Fillmore, California - he wants a forever family. He is neutered, approximately 7 years young, black and tan, with a docked tail and wonderfully goofy natural ears. He has no known medical needs or issues.
Heckle is a funny, full-body wag kind of guy. He needs to be the only dog, but is affectionate, mellow, and lovable enough to do duty for several dogs. He's been waiting a long time for his very own family, and is hoping with all paws crossed that someone will soon want to share his joy for life with him.
Doberman Pinscher Rescue is willing to place Heckle in California, Arizona, or Nevada. However, the adopter must agree to personally return him to Doberman Pinscher Rescue in the event the adoption does not work out.
Contact Information:
For additional information on Heckle, as well as adoption procedures, please contact Ardis Munck at Doberman Pinscher Rescue. Their phone number is 805-524-5102 or 818-317-1054. Their website is www.dobierescue.org, and their email address is dobierescue@earthlink.net.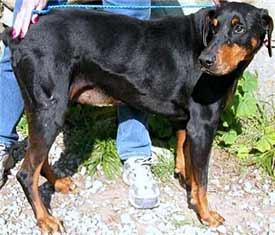 The Sponsor A Senior program helps Seniors by raising funds for their rescue programs. This helps offset some of the additional costs that come with caring for a senior (diet, medications, supplements, etc.). Please read more about this program on the Sponsor A Senior page.
Heckle is looking for a sponsor! The cost to sponsor a Senior Dobe is $30 per month or $360 per year. You can sponsor a Senior for one month, one year, or somewhere in between. To sponsor Heckle, use the PayPal button below or visit the Sponsor A Senior page for instructions on sending a check. Thank you for any help you can give, it is MUCH appreciated!