Gregory!
June, 2016 - Rest In Peace dear Mr. Gregory!

You are so very loved, forever!!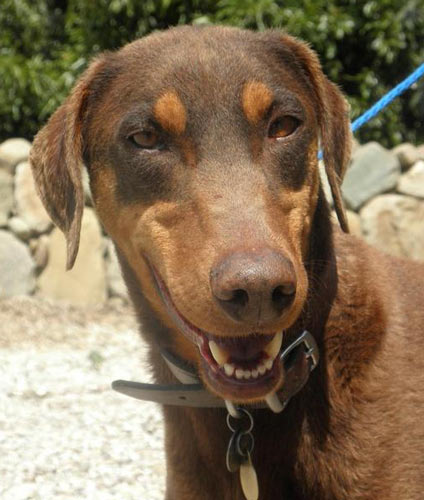 Meet Mr. Gregory!! His smile will put one on your face!!
Whatttttta Guy!!!!!!!!!!!
Senior boy Gregory spent much of his life living alone as a guard dog so he really appreciated the one-on-one affection, walks, and treats he's getting at the rescue. He can be a little reactive to other dogs but inside his kennel he needs to have two feed stations to keep his female companion from taking HIS food. This is the second female companion whose done this so clearly Gregory let's the ladies boss him around. He's still slightly underweight at 70 lb... but this won't be a problem for long.
Special Needs if any: Needs TLC and lots of ladies!
Geographic Areas: California and surrounding states.

---
The Sponsor A Senior program helps Seniors by raising funds for their rescue programs. This helps offset some of the additional costs that come with caring for a senior (diet, medications, supplements, etc.). Please read more about this program on the Sponsor A Senior page.
Mr. Gregory is looking for a sponsor! The cost to sponsor a Senior Dobe is $40 per month or $480 per year. You can sponsor a Senior for one month, one year, or somewhere in between. To sponsor Mr. Gregory, use the PayPal button below or visit the Sponsor A Senior page for instructions on sending a check. Thank you for any help you can give, it is MUCH appreciated!