Ganesh!
October, 2011 - Rest In Peace, dear Ganesh!

You will be remembered with love!!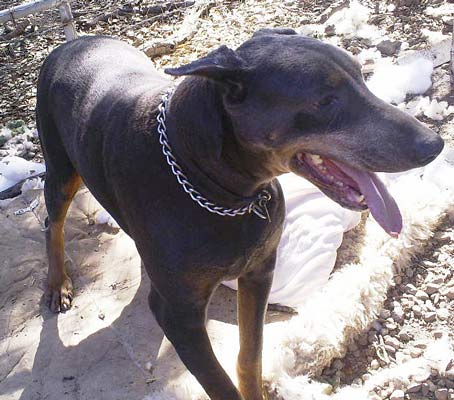 Meet Lord Ganesh, the Hindu Elephant Diety, Lord of Success!!
Won't you make him YOUR success story?

10 year-old Ganesh is a sweet old guy with mobility issues which have improved with medication. He is close to 100 lb. and his cropped ears don't stand. Ganesh was named for the Hindu Elephant God because when he is sprawled out on his sheepskin he resembles a resting elephant. He is allowed to roam a few hours a day with the other dogs on the six fenced acres without any issues.
Special Needs if any: Meds for mobility issues
Geographic areas: California and the surrounding states
---
The Sponsor A Senior program helps Seniors by raising funds for their rescue programs. This helps offset some of the additional costs that come with caring for a senior (diet, medications, supplements, etc.). Please read more about this program on the Sponsor A Senior page.
Lord Ganesh is looking for a sponsor! The cost to sponsor a Senior Dobe is $30 per month or $360 per year. You can sponsor a Senior for one month, one year, or somewhere in between. To sponsor Lord Ganesh, use the PayPal button below or visit the Sponsor A Senior page for instructions on sending a check. Thank you for any help you can give, it is MUCH appreciated!