Gabby!
August, 2017 - Rest In Peace dear Miss Gabby!

You are so very loved, forever!!
Meet Grim Gabby!!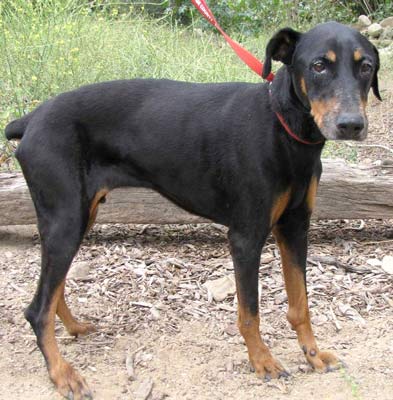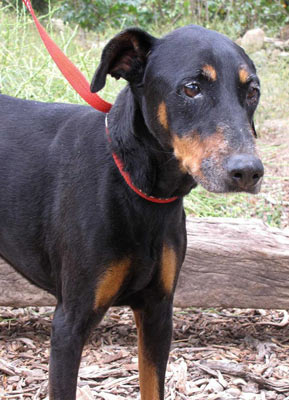 She didn't learn "sad" from the SAG (Screen Actors Guild)!!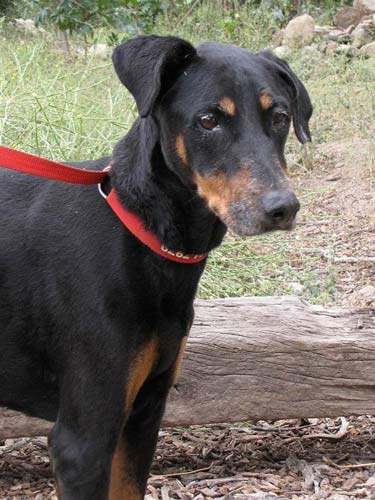 Won't YOU turn Gabby GRIM into Gabby GRIN??
Ten year-old Gabby is a small Senior girl who was surrendered to a California animal shelter just because she wasn't wanted with no reason given (other than "we're cold and stupid and this DobeLady is smarter than we are.") Gabby is presently living with a big male Doberman of whom she's tolerant, but she does not allow him to bully her. This sweet, little girl enjoys whatever comforts she's offered and is so quiet you could forget she's there. She is a healthy girl and it is hoped she will be adopted soon so she can enjoy a home of her own for her remaining years.
Special Needs if any: None
Geographic Areas: California and surrounding states.

---
The Sponsor A Senior program helps Seniors by raising funds for their rescue programs. This helps offset some of the additional costs that come with caring for a senior (diet, medications, supplements, etc.). Please read more about this program on the Sponsor A Senior page.
Miss Gabby is looking for a sponsor! The cost to sponsor a Senior Dobe is $40 per month or $480 per year. You can sponsor a Senior for one month, one year, or somewhere in between. To sponsor Miss Gabby, use the PayPal button below or visit the Sponsor A Senior page for instructions on sending a check. Thank you for any help you can give, it is MUCH appreciated!