Fancy Pants!
January, 2013 - Rest In Peace, dear Mr. Fancy Pants!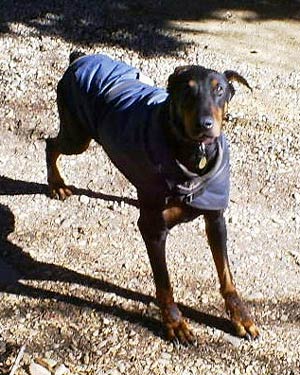 Meet Mr. Fancy Pants! How does a Dude end up with that name?
Sponsor me and find out!!
This very happy 10 year-old boy is known as Fancy Pants. He has joined the rescues sanctuary because he doesn't seem happy anywhere else. He was adopted for 4 years but kept running away from his owner every chance he got. Eventually the rescue was called to retrieve him from the pound and it was decided he'd spend the rest of his days here where he seems happiest. He has never tried to escape from the sanctuary. He is allowed to free-roam on six fenced acres but always comes indoors at night to sleep. Other than mild spinal paralysis and a couple of healed lick granulomas on his front legs, he is a healthy and happy guy.
Special Needs if any: Needs and gets love!

Geographic areas: N/A
---
The Sponsor A Senior program helps Seniors by raising funds for their rescue programs. This helps offset some of the additional costs that come with caring for a senior (diet, medications, supplements, etc.). Please read more about this program on the Sponsor A Senior page.
Mr. Fancy Pants is looking for a sponsor! The cost to sponsor a Senior Dobe is $40 per month or $480 per year. You can sponsor a Senior for one month, one year, or somewhere in between. To sponsor Mr. Fancy Pants, use the PayPal button below or visit the Sponsor A Senior page for instructions on sending a check. Thank you for any help you can give, it is MUCH appreciated!