Eddie!
March, 2016 - Rest In Peace dear Mr. Eddie!

You are so very loved, forever!!
Meet Mr. Eddie!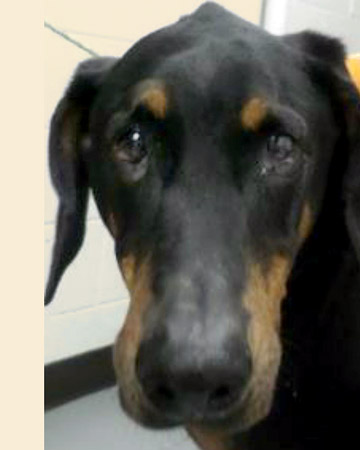 They wrote a song about me a loooong time ago and I'm told it still applies...
"Eddie My Love!! "
Eddie is a quiet, sweet, 10 year-old Doberman who has apparently lived in several homes in his life time. For the last two years he was living on the streets of a Northern California city with his most recent owner. Eventually his human buddy realized that Eddie was no longer enjoying that carefree lifestyle, and no doubt needed some medical attention. Rather than have Eddie unhappy he turned him in to the local SPCA which is no-kill shelter. He gave very detailed information about Eddie including his compatibility with other dogs, cats, birds, and young children. The SPCA reached out to No. CA Doberman Rescue to see if they could offer Eddie a more permanent retirement home on acreage in rural Red Bluff, CA.
Eddie has several odd looking growths scattered about his body, the largest of which is on the back of his neck. The vet determined that while unsightly, they are not posing any danger for him and are unlikely to be cancerous. The vet will be notified if any of the growths change in texture or appearance.
Eddie enjoys lounging on his blanket in his extra large kennel and pretty much ignores the activities of the younger dogs at the ranch. Nothing seems to stress him and he is gradually becoming accustomed to having kibble mixed in with the can food. Eddie would appreciate having a new home if anyone is interested in a quiet, Senior Doberman but his stay at the ranch is guaranteed for as long as he needs it. Hopefully he would love a sponsor to help keep his canned food stocked as clearly that is on his list of favorite things.
Special Needs if any: None.
Geographic areas: CA, NV, WA, OR
---
The Sponsor A Senior program helps Seniors by raising funds for their rescue programs. This helps offset some of the additional costs that come with caring for a senior (diet, medications, supplements, etc.). Please read more about this program on the Sponsor A Senior page.
Mr. Eddie is looking for a sponsor! The cost to sponsor a Senior Dobe is $40 per month or $480 per year. You can sponsor a Senior for one month, one year, or somewhere in between. To sponsor Mr. Eddie, use the PayPal button below or visit the Sponsor A Senior page for instructions on sending a check. Thank you for any help you can give, it is MUCH appreciated!