Butch!
October, 2011 - Rest In Peace, dear Butch!

You will be remembered with love!!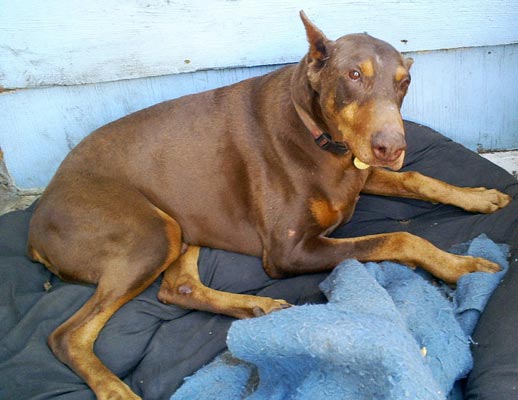 Meet Mr. Butch!!
He looks like he has a story to tell... maybe over a few treats and rubs??
10 year-old Butch is housebroken and gets along with all dogs. He has a slightly impaired rear leg which doesn't bother him enough to require surgery. He shares the kitchen area with four other dogs when he's not patrolling the fenced property. Butch is a love! His favorite thing is to lay on his side while being rubbed.
Special Needs if any: None
Geographic areas: California and the surrounding states
---
The Sponsor A Senior program helps Seniors by raising funds for their rescue programs. This helps offset some of the additional costs that come with caring for a senior (diet, medications, supplements, etc.). Please read more about this program on the Sponsor A Senior page.
Mr. Butch is looking for a sponsor! The cost to sponsor a Senior Dobe is $30 per month or $360 per year. You can sponsor a Senior for one month, one year, or somewhere in between. To sponsor Mr. Butch, use the PayPal button below or visit the Sponsor A Senior page for instructions on sending a check. Thank you for any help you can give, it is MUCH appreciated!