Bruno!
December, 2012 - Rest In Peace, dear Mr. Bruno!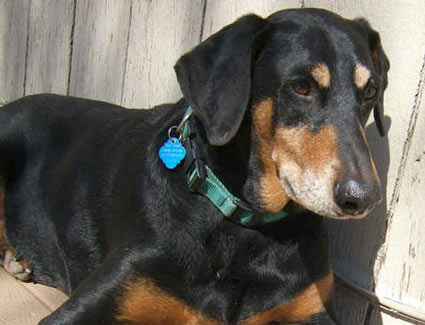 Sunshine feels good on these old bones!! Let me bring some sushine into your heart, won't you?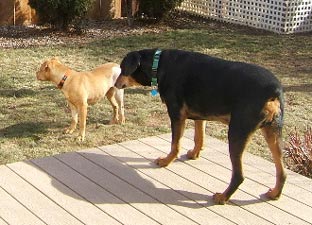 Me and my best friend, Miss Ruby!!
Originally in the summer of 2008 he was in a shelter in Reno and wasn't doing well in a shelter situation. An all breed rescue pulled him and had him fostered for several months. He was listed on PetFinders and no takers. He then moved to another foster with that group because the first foster was leaving for Europe for 2 months. He fit in well in both homes but his presence meant that they were limited in being able to add another adoptable dog. A plea went out by email and I was contacted. Since I'm a sucker for the seniors, I agreed to take him.
Bruno is not good with cats. He's ambivalent with most other dogs. He's housetrained, likes his big crate with thick pad. He sits and that's about it for obedience. He walks OK on a leash. He's just a funny, slightly senile fellow who just wants to BE... happy!
Physically, he's just a little deaf, doesn't see well in dimly lit rooms or at night, a little arthritic but probably 15 lbs overweight.
Northern CA Doberman Rescue is willing to place Dobermans in CA, OR, WA, NV.
The Sponsor A Senior program helps Seniors by raising funds for their rescue programs. This helps offset some of the additional costs that come with caring for a senior (diet, medications, supplements, etc.). Please read more about this program on the Sponsor A Senior page.
Bruno is looking for a sponsor! The cost to sponsor a Senior Dobe is $30 per month or $360 per year. You can sponsor a Senior for one month, one year, or somewhere in between. To sponsor Bruno, use the PayPal button below or visit the Sponsor A Senior page for instructions on sending a check. Thank you for any help you can give, it is MUCH appreciated!