Bonnie!
September, 2012 - Rest In Peace, dear Miss Bonnie!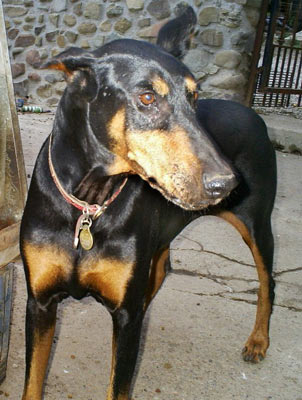 Meet Miss Bonnie - Bonnie Indeed!!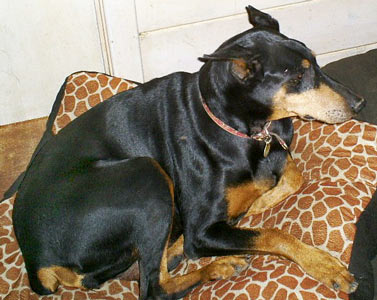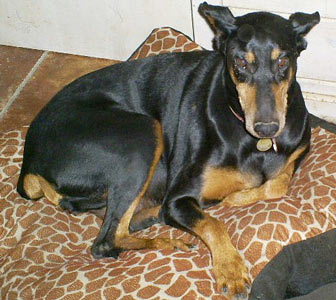 Now this is my idea of a permanent retirement - on safari chasing giraffe!!
Beautiful 10 year-old Bonnie had been abandoned by her owners to animal shelters THREE TIMES! This time she has a permanent home with Ardis at Doberman Pinscher Rescue. This striking Senior girl is still very active and has a high prey drive. She runs like the wind on her six fenced acres chasing ground squirrels and lizards. Bonnie gets along well with the other dogs in the rescue and she appears to finally be happy!
Special Needs if any: None
Geographic areas: California and the surrounding states
---
The Sponsor A Senior program helps Seniors by raising funds for their rescue programs. This helps offset some of the additional costs that come with caring for a senior (diet, medications, supplements, etc.). Please read more about this program on the Sponsor A Senior page.
Miss Bonnie is looking for a sponsor! The cost to sponsor a Senior Dobe is $30 per month or $360 per year. You can sponsor a Senior for one month, one year, or somewhere in between. To sponsor Miss Bonnie, use the PayPal button below or visit the Sponsor A Senior page for instructions on sending a check. Thank you for any help you can give, it is MUCH appreciated!