Bobbie!
May, 2011 - Rest In Peace, dear Bobbie!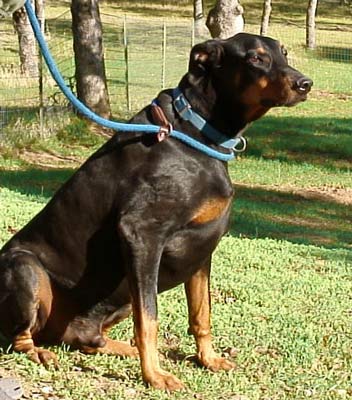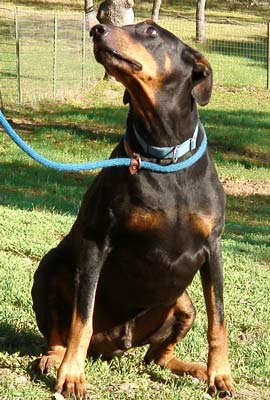 Meet Bobbie!! His Motto: Have Love,Will Travel! I need a Ticket To Ride!!
Meet sweet 8 year-old Bobbie. He is a wonderful big old gentle goof who until the last few months had led a very cushy life in Oregon. That all changed when Bobbie's owners divorced and they started life over without him. He was dumped at a local shelter where the kind folks at Saving Grace Pet Adoption Center saw him and contacted Dana. With their help he was transported to northern California and he is now comfortable in his new country home but would really like to find a permanent home so he can be pampered 24/7 again. He is neutered and current on all his vaccinations. Bobbie is house and crate trained and is very pleasant on walks. He has never been around children and does not care for cats. He adores his toys and might take a fancy to having a quiet female dog around. This sweet dobergent has been started on a diet in order to loose a few pounds.
Special Needs if any: None
Geographic areas: CA, NV, WA, OR
---
The Sponsor A Senior program helps Seniors by raising funds for their rescue programs. This helps offset some of the additional costs that come with caring for a senior (diet, medications, supplements, etc.). Please read more about this program on the Sponsor A Senior page.
Mr. Bobbie is looking for a sponsor! The cost to sponsor a Senior Dobe is $30 per month or $360 per year. You can sponsor a Senior for one month, one year, or somewhere in between. To sponsor Mr. Bobbie, use the PayPal button below or visit the Sponsor A Senior page for instructions on sending a check. Thank you for any help you can give, it is MUCH appreciated!