Bitsy!
January, 2014 - Rest In Peace, dear Miss Bitsy!!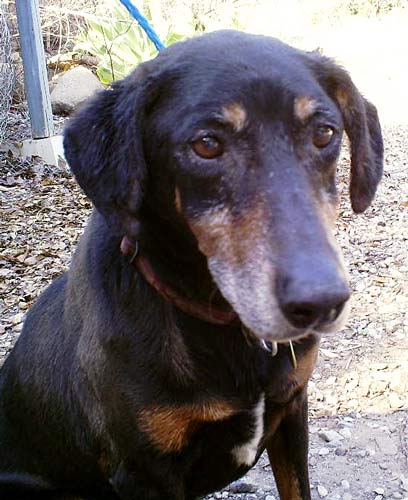 Meet Miss Bitsy!! At 14 years young, she can tell you the secret of long life!
Bitsy is a sweet Senior girl of 14 years-old. She was adopted several years ago but returned due to her owner's living situation. Bitsy is one of this rescues "free roamers" meaning she gets to run on six fenced acres to hunt ground squirrels, eat avocados, and stay fit. She's fine with all other dogs. When you ask Bitsy the secret to her long life she will tell you it's her size. She has never weighted more than 50 lb. Bitsy is a very happy girl.
Special Needs if any: None
Geographic areas: California and the surrounding states
---
The Sponsor A Senior program helps Seniors by raising funds for their rescue programs. This helps offset some of the additional costs that come with caring for a senior (diet, medications, supplements, etc.). Please read more about this program on the Sponsor A Senior page.
Miss Bitsy is looking for a sponsor! The cost to sponsor a Senior Dobe is $40 per month or $480 per year. You can sponsor a Senior for one month, one year, or somewhere in between. To sponsor Miss Bitsy, use the PayPal button below or visit the Sponsor A Senior page for instructions on sending a check. Thank you for any help you can give, it is MUCH appreciated!