Bingo!
December, 2017!! - Miss Bingo has been adopted!!!
HAPPY NEW LIFE!! Somebody just got lucky!
Happy, happy retirement Bingo!
HIP HIP HOOOORAY!!
Meet Beautiful Miss Bingo!!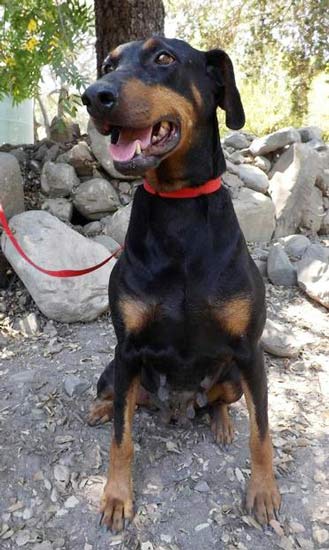 This dear Lady says: "Pick Me!!" and it will be BINGO for you!!
When pretty Bingo first came to the rescue she would refuse to go for walks by planting herself and refusing to budge. Since then she's come a long way and will tolerate male dogs and is more confident with people. Although she's still reluctant to go for walks she will go and it is believed she is afraid because she thinks if she goes, she won't get to come back to her home at the rescue.
Special Needs if any: None
Geographic Areas: California and surrounding states.

---
The Sponsor A Senior program helps Seniors by raising funds for their rescue programs. This helps offset some of the additional costs that come with caring for a senior (diet, medications, supplements, etc.). Please read more about this program on the Sponsor A Senior page.
Miss Bingo is looking for a sponsor! The cost to sponsor a Senior Dobe is $40 per month or $480 per year. You can sponsor a Senior for one month, one year, or somewhere in between. To sponsor Miss Bingo, use the PayPal button below or visit the Sponsor A Senior page for instructions on sending a check. Thank you for any help you can give, it is MUCH appreciated!