Bailey!
July, 2016 - Rest In Peace dear Miss Bailey!

You are so very loved, forever!!
Meet Miss Bailey!!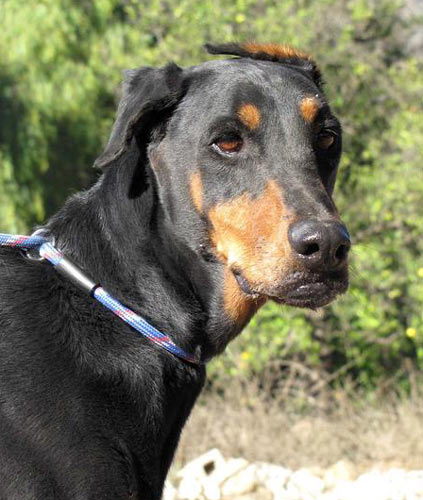 "Won't you come home Miss Bailey, won't you come home??"
...er, you can make that "Won't YOU take me home...?"
Bailey is on the small size and has cropped ears that won't stand. She loves to spend her days hunting ground squirrels all day. She has very noticeable underbite which, though is terrible for show dogs, is actually quite amusing and endearing on Bailey. She is very dog-social, able to spend time with a lot of dogs but not really needing their company.
Special Needs if any: None.
Geographic Areas: Not Available.

---
The Sponsor A Senior program helps Seniors by raising funds for their rescue programs. This helps offset some of the additional costs that come with caring for a senior (diet, medications, supplements, etc.). Please read more about this program on the Sponsor A Senior page.
Miss Bailey is looking for a sponsor! The cost to sponsor a Senior Dobe is $40 per month or $480 per year. You can sponsor a Senior for one month, one year, or somewhere in between. To sponsor Miss Bailey, use the PayPal button below or visit the Sponsor A Senior page for instructions on sending a check. Thank you for any help you can give, it is MUCH appreciated!