Bailey!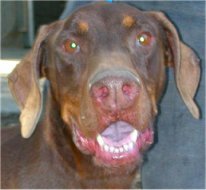 Bailey is an absolute angel of a dog. We found him in one of the large Southern California shelters. He's around 7-8 years old, red, docked, neutered, and microchipped. Bailey is on the large side, quiet, calm and affectionate. He likes to be close to his person and he's a character--just look at that face! He's also fine with any number of other dogs of all temperaments. He may be OK with cats too, as we introduced him to our "cat test" kitty and he seemed uninterested. His red coat is on the thin side, probably from years of neglect, but he's putting on weight and his coat is becoming more handsome and healthy-looking by the minute. Bailey's history is a mystery, but he's a stand-out senior who deserves an owner who will dote on him.
Doberman Pinscher Rescue is willing to place Bailey in California or surrounding states. However, the adopter must agree to personally return him to Doberman Pinscher Rescue in the event the adoption does not work out.
Contact Information:
For additional information on Bailey, as well as adoption information and procedures, please contact Ardis Munck, Doberman Pinscher Rescue Fillmore, at 805-524-5102 or 818-317-1054. Their website is www.dobierescue.org, and their email address is dobierescue@earthlink.net.