Argos!
October, 2011 - Rest In Peace, dear Argos!

You will be remembered with love!!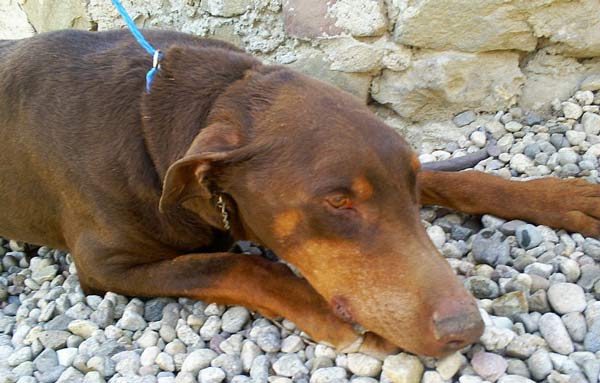 Meet Lord Argos, Son of Zeus and Niobe!! Dreaming of Olympian heights...
Won't you help him reach that goal?
Argos is now 10 years-old and came to rescue with his sister Miss Trixie (see her page too: http://www.doberman911.org/seniors/cases/ca_trixie.html ). They enjoy each other's company so they have been kept together. Argos is special to the people here at the rescue and he is always thrilled to see meet those he loves. Argos will bend to almost a half circle during back rubs while tucking his head around to his butt to give you as much access as possible. He does best with female dogs.
Special Needs if any: None
Geographic areas: California and the surrounding states
---
The Sponsor A Senior program helps Seniors by raising funds for their rescue programs. This helps offset some of the additional costs that come with caring for a senior (diet, medications, supplements, etc.). Please read more about this program on the Sponsor A Senior page.
Lord Argos is looking for a sponsor! The cost to sponsor a Senior Dobe is $30 per month or $360 per year. You can sponsor a Senior for one month, one year, or somewhere in between. To sponsor Lord Argos, use the PayPal button below or visit the Sponsor A Senior page for instructions on sending a check. Thank you for any help you can give, it is MUCH appreciated!