Amber!
December, 2011 - Rest In Peace, dear Miss Amber!

You will be remembered with love!!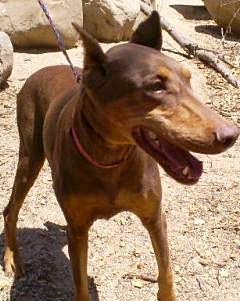 My beautiful amber eyes will tell you why my name fits so well!!
The lovely Miss Amber is an 8 year-old Senior girl who was picked up as a stray and taken to a high-kill Los Angeles area shelter. She is a mellow girl who loves to hang out enjoys her walks. She doesn't mind walking with other dogs but will not share her space with them so she would be best in an only dog situation.
Special Needs if any: Needs lots of love and gets it!!
Geographic areas: N/A
---
The Sponsor A Senior program helps Seniors by raising funds for their rescue programs. This helps offset some of the additional costs that come with caring for a senior (diet, medications, supplements, etc.). Please read more about this program on the Sponsor A Senior page.
Miss Amber is looking for a sponsor! The cost to sponsor a Senior Dobe is $30 per month or $360 per year. You can sponsor a Senior for one month, one year, or somewhere in between. To sponsor Miss Amber, use the PayPal button below or visit the Sponsor A Senior page for instructions on sending a check. Thank you for any help you can give, it is MUCH appreciated!
All rights reserved, Special Needs Dobermans, Inc. © 2002. Reprinting of material found herein without written permission is prohibited. "Dober'Toons!" are the property of L.Angele Laughlin-Semple, All rights reserved. Copyright © 1998, 1999, 2000, 2001, 2002 L.Angele Laughlin-Semple. Copying, linking and/or reproduction of any "Dober'Toons!" artwork on this site is denied without permission.