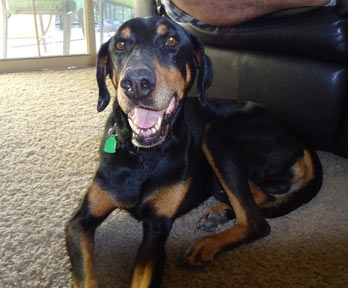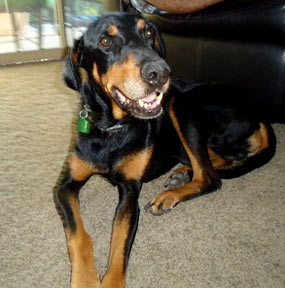 Meet our Mr. Buddy!! Hey... Wanna hear my story??

Ooooops! Excuse me... Nap Time!!

Meet the amazing 8 year-old dober dude Buddy! Until a year ago, Buddy's life had been a misery. Chained to a fallen down dog house in the back yard of a family who didn't feel daily food and fresh water was a priority, he lived with another dog. When rescuers heard of their situation they tried to have the dogs removed from the home for animal cruelty. However, the city felt the owners were just inside the line of adequate care so they would not get involved. One day a rescuer visited only to find Buddy's friend had died on the end of his chain and they were able to remove Buddy. For the first time in his 8 years, Buddy was learning to live indoors, surrounded by good food and loving care from his foster parents. Since he had never been to a vet or received any medical care in his life, he does have some issues that are being taken care of. Buddy is adjusting with gusto to his new home and is now housebroken and happy. Since this it the only home he has ever had where he has been loved, it has been decided that he will remain with his foster family for the rest of his days.

Special Needs if any: Has a tumor on his leg that will be removed and will need heartworm treatment.

Geographic areas: N/A

Contact Information:
Name: Margo Marsh
Rescue: San Antonio Doberman Rescue
Phone Numbers: 830-985-3853
Email: mjmmarsh@msn.com

.