Porter!
January, 2012!! Mr. Porter has been adopted!!!
Happy, happy retirement Sweet Guy!!
HIP HIP HOOOORAY!!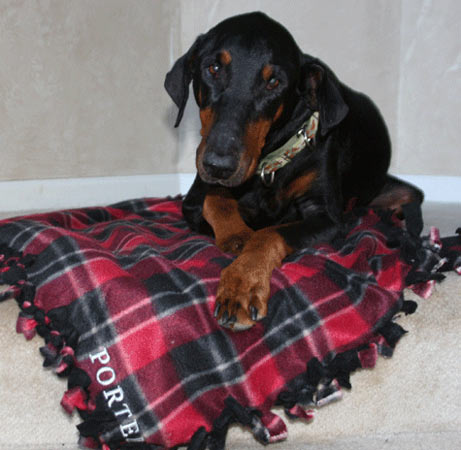 Meet Mr. Porter!! As you can see... this porter gets a blankie with his name!!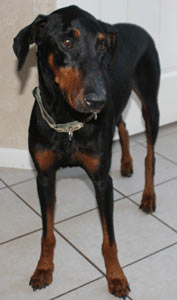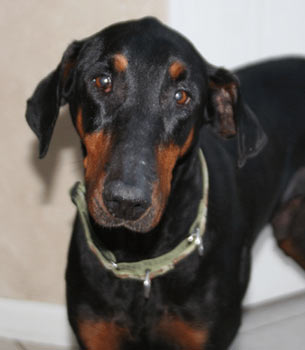 Porter? Did someone say "porter?"... PLEEEEASE... I will carry all your love proudly!!
Meet 7 year-old Porter. This super sweet Senior almost found himself in an Ohio shelter if not for two wonderful people who intercepted his owners and offered to find him a rescue. They took him back to their Pet Resort and got him some immediate vet care. He was very ill with infections in both ears, eyes, and his skin that had been left untreated for who knows how long. He had a hematoma on one of his infected ears that that had to be drained. Now that he's feeling better he's a different dog. Porter is the sweetest Doberman you'll ever meet. He is active and is enjoying his new foster family and fellow foster dogs. You can't help but fall in love with Porter when you meet him.
Special Needs if any: None
Geographic areas: Northeastern states including New England
Contact Information
Rescue Group: Distinguished Doberman Rescue, Inc.
Location: Moon Township, PA
Contact: Susan Szyklinski
Phone: Emails only
Website: http://www.ddrinc.net
Email: sszyklinski@gmail.com
The Sponsor A Senior program helps Seniors by raising funds for their rescue programs. This helps offset some of the additional costs that come with caring for a senior (diet, medications, supplements, etc.). Please read more about this program on the Sponsor A Senior page.
Mr. Porter is looking for a sponsor! The cost to sponsor a Senior Dobe is $40 per month or $480 per year. You can sponsor a Senior for one month, one year, or somewhere in between. To sponsor Mr. Porter, use the PayPal button below or visit the Sponsor A Senior page for instructions on sending a check. Thank you for any help you can give, it is MUCH appreciated!