Koda!
February, 2012!! Mr. Koda has been adopted!!!
Happy, happy retirement Sweet Guy!!
HIP HIP HOOOORAY!!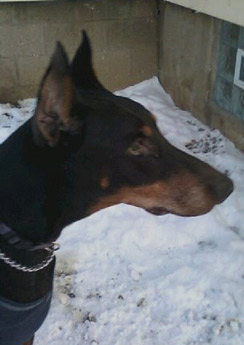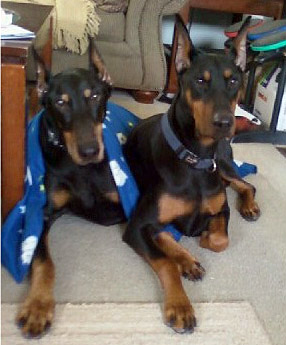 Meet Mr. Koda!! ...and his new BF that's holding his hand and keeping...
his blankie in place too!!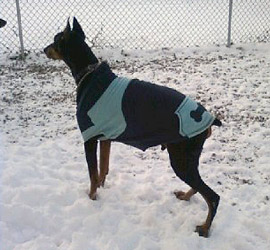 Dear Mr. Koda in his stylish snow gear!! Looking for a ride to his Forever Home!!
Handsome 10 year-old Koda found himself turned over to rescue because of personal issues within his family. Needless to say, his entire world has been turned upside down. He is adjusting to the changes very well and is good with other dogs, cats and kids. He is an easy boy and his foster mom is smitten. Koda is looking for a new forever home to spend the rest of his days. Somewhere he can feel safe, secure, and loved. DDR has promised him he will never have to worry about losing his home again. If you are looking for a sweet Senior to love forever you could not do better than Koda.
Special Needs if any: None
Geographic areas: Northeastern states including New England
Contact Information
Rescue Group: Distinguished Doberman Rescue, Inc.
Location: Moon Township, PA
Contact: Susan Szyklinski
Phone: Emails only
Website: http://www.ddrinc.net
Email: sszyklinski@gmail.com
The Sponsor A Senior program helps Seniors by raising funds for their rescue programs. This helps offset some of the additional costs that come with caring for a senior (diet, medications, supplements, etc.). Please read more about this program on the Sponsor A Senior page.
Mr. Koda is looking for a sponsor! The cost to sponsor a Senior Dobe is $40 per month or $480 per year. You can sponsor a Senior for one month, one year, or somewhere in between. To sponsor Mr. Koda, use the PayPal button below or visit the Sponsor A Senior page for instructions on sending a check. Thank you for any help you can give, it is MUCH appreciated!