Zoe!!
August, 2016!! - Miss Zoe has been adopted!!!
HAPPY NEW LIFE!! Somebody just got lucky!
Happy, happy retirement Zoe!!
HIP HIP HOOOORAY!!
Meet Zany Zoe!


See my Southwest decor? This is Southwest Ohio!!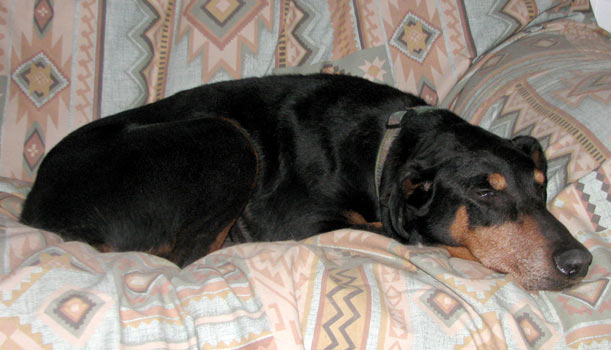 Zoe has a zest for life... but it's nap time in the SW now!!
Sweet Zoe at 10 years-old was surrendered to a county shelter in Ohio after giving her owners several litters of puppies. Seems after she developed a mammary tumor they decided they couldn't take care of her anymore. Fortunately, the shelter raised funds to remove the tumor, which was not malignant. A concerned individual associated with the shelter posted on SWODR's Facebook page that the concrete floor of the shelter was no place for a Senior girl. She is currently in a foster home awaiting a new forever home where she will not be abandoned again. She is now spayed, heartworm negative, up to date on all her shots, healthy, happy, and very well-behaved in her foster home - not needing a crate. She gets along fine with cats and all people and for a Senior has plenty of energy when playing the yard chasing sticks!
Special Needs If Any: None
Geographic areas you adopt to: Rescue will consider applications throughout the U.S. and Canada providing a home visit can be done.
Contact Information: If you are interested in adopting a Senior, please visit the Southwest Ohio Doberman Rescue (SWODR) website at www.swohiodoberescue.org to submit an application. or by e-mail at swohdoberescue@aol.com. Southwest Ohio Doberman Rescue will consider applications from throughout the U.S. and Canada, provided we can get a home visit done. Travel to meet the dog and transportation of the dog to its new home (ground only) are the responsibility of the adopter. See our website for further details. An application is required.