Mo!!
November, 2016!! - Mr. Mo has been adopted!!!
HAPPY NEW LIFE!! Somebody just got lucky!
Happy, happy retirement Mr. Mo!!
HIP HIP HOOOORAY!!
Meet Mr. Mo... Mo Freckles!!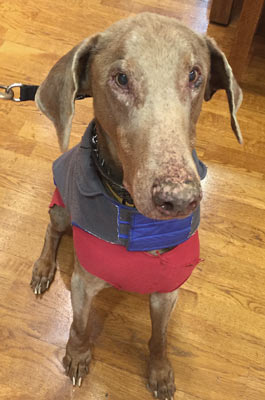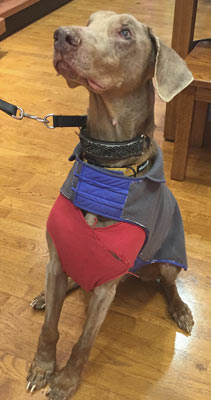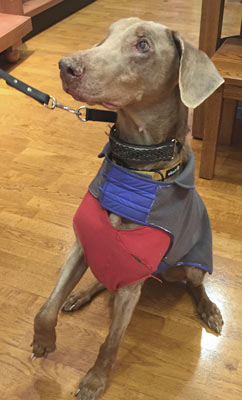 Wanna shake??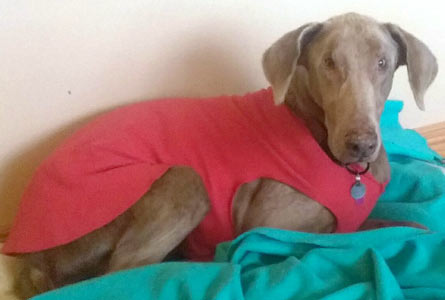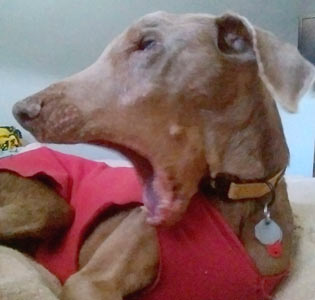 I can't wait all day... need some beauty freckle sleep!!
Senior boy Mo's owner passed away 3 years ago and the family was going to euthanize him so a co-worker and her husband agreed to take him in with the intention to be only a temporary foster home. They ended up keeping him for three years and a toddler and new baby on the way finally pushed Mo out. He doesn't have any major health problems but unfortunately he has suffered some neglect from his inexperienced and reluctant long term fosters. He was 20 pounds underweight, had a nasty skin infection in both ears, lick granulomas on his lower left leg, and a mass on his neck that was infected. He's been placed on antibiotics, ear wash, medicated ear drops, and a joint supplement. HIs nails were also curled under and causing him severe discomfort and problems moving around. He's also been given a medicated wash for his very dry skin.
Special Needs If Any: None.
Geographic areas you adopt to: Rescue will consider applications throughout the U.S. and Canada providing a home visit can be done.
Contact Information: If you are interested in adopting a Senior, please visit the Southwest Ohio Doberman Rescue (SWODR) website at www.swohiodoberescue.org to submit an application. or by e-mail at swohdoberescue@aol.com. Southwest Ohio Doberman Rescue will consider applications from throughout the U.S. and Canada, provided we can get a home visit done. Travel to meet the dog and transportation of the dog to its new home (ground only) are the responsibility of the adopter. See our website for further details. An application is required.