Alibi!!
October, 2011! Miss Alibi has been adopted!!!
Happy, happy retirement Sweet Lady!!
HIP HIP HOOOORAY!!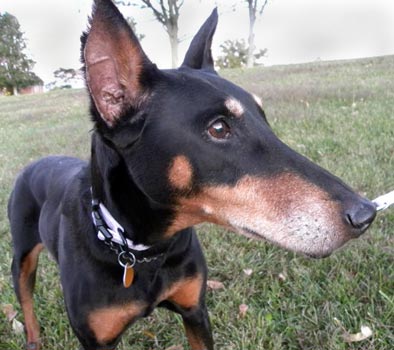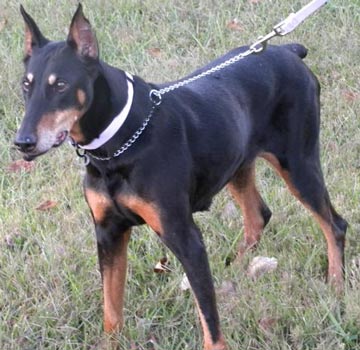 Alibi?? I need an Alibi?? Well, I was just waiting for the RescueAngel Brigade from NCDR...
they gave me the Alibi I needed... they call me Miss Alibi now!
Lovely Senior girl Alibi at 14 years-old was dumped at a shelter in Ohio when her owner who was terminally ill was placed in hospice. She had been loved in the same home since she was a baby and now found herself suddenly in a frightening place. The people at the shelter saw her fear and sent her home with one of their workers to foster until a rescue could be found. The dober angels of North Coast Doberman Rescue quickly found her a foster home in their rescue. Alibi has settled quickly into her new foster home and is doing well with the other Doberman in the home. She is a delight to have around and is very energetic for her age.
Special Needs if any: None
Geographic areas: Sponsorship Only
Contact Information:
Location: Columbus, OH
Contact: Teka Clark
Phone: 330-759-5059
Website: www.northcoastdobermanrescue.org
Email: Northcoastdobe@aol.com
The Sponsor A Senior program helps Seniors by raising funds for their rescue programs. This helps offset some of the additional costs that come with caring for a senior (diet, medications, supplements, etc.). Please read more about this program on the Sponsor A Senior page.
Miss Alibi is looking for a sponsor! The cost to sponsor a Senior Dobe is $30 per month or $360 per year. You can sponsor a Senior for one month, one year, or somewhere in between. To sponsor MissAlibi, use the PayPal button below or visit the Sponsor A Senior page for instructions on sending a check. Thank you for any help you can give, it is MUCH appreciated!