Sage!
February, 2012!! Miss Sage has been adopted!!!
Happy, happy retirement Sweet Girl!!
HIP HIP HOOOORAY!!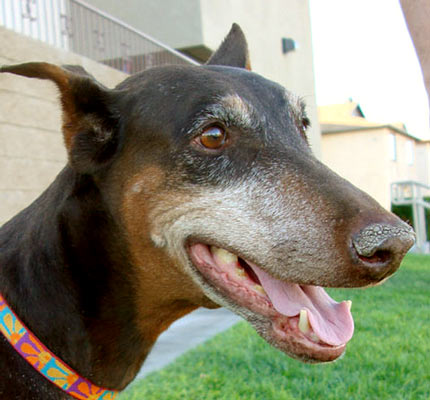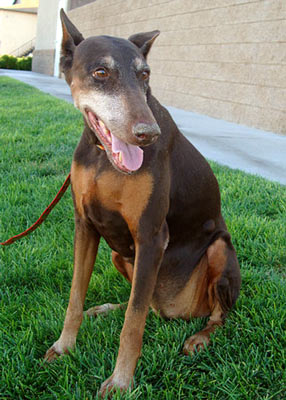 Meet Miss Sage!! Her nose may look a little weathered but every white hair
is a symbol of her perseverance and wisdom in the game of life!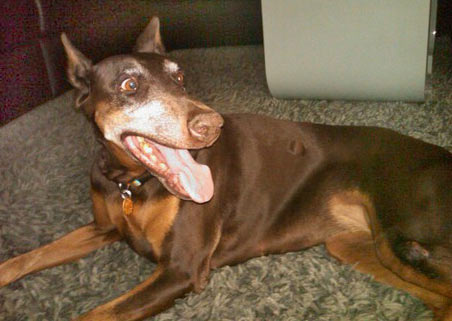 Yipppeee!! These are the Golden Years now!!
Senior Lady Sage at 8 years-old was found abandoned and wandering in the desert. She is very sweet and deserves a better life. Sage is active, playful, full of life, and wants desperately to have a family of her own. She is very social and gets along well with other dogs. She is spayed, up to date on all her shots, and being treated for other health issues.
Special Needs if any: None
Geographic areas: Any state in the western part of the U.S. as long as a home visit can be arranged. New adopters must come to Nevada to meet the Doberman they wish to adopt and bring with them any pet who lives in the home.

Contact:

Phone: 702-672-7204
Website: www.drnv.org
Email: info@drnv.org
The Sponsor A Senior program helps Seniors by raising funds for their rescue programs. This helps offset some of the additional costs that come with caring for a senior (diet, medications, supplements, etc.). Please read more about this program on the Sponsor A Senior page.
Miss Sage is looking for a sponsor! The cost to sponsor a Senior Dobe is $30 per month or $360 per year. You can sponsor a Senior for one month, one year, or somewhere in between. To sponsor Miss Sage, use the PayPal button below or visit the Sponsor A Senior page for instructions on sending a check. Thank you for any help you can give, it is MUCH appreciated!