Sadie!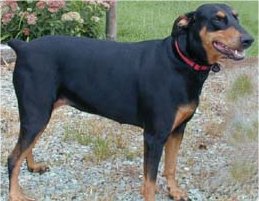 Sadie would love to have a new foster home soon if she cannot find a forever home right away. Sadie's parents are divorcing and cannot keep her. Her family adopted her two years ago as a rescue and now they will have no room for poor Sadie.
Sadie is 7 years old, black and rust, has natural ears and a docked tail. She is spayed, micro-chipped, house-trained, good with children and other dogs, but will chase cats. She's a very well behaved Dobergirl in the house - never destructive and never chews. She sleeps on her own pillow at night and gets along very well big or little dogs. Her current foster home has five miniature Dachunds and a male Doberman, so she could use a new foster home with more space. She likes to sleep on the couch if allowed, and she has been known to steal something good tasting off the counter if it smells tempting!
She's very affectionate, and will glady place her body on your lap if you let her. She is happy in the backyard, laying on a blanket or playing in her toys. She never tries to dig out or run away from the yard. This Dobergal has lived with two young children without ever having a problem.
She knows several commands including "sit", "lay", and " shake". "Come" and "down" both need a little work, but she is eager to please and will be glad to kiss you even when corrected. She needs a little leash work because she does tend to pull in her anxiety to go someplace. This Dobergal acts more like a three year old than a seven year old. She is amazing! When riding in the car, she loves to hang her head out the passenger side window or will quietly lie in the backseat if requested to do so.