Josie!
July, 2014!! - Miss Josie has been adopted!!!
Somebody just got lucky!
Happy, happy retirement Miss Josie!!
HIP HIP HOOOORAY!!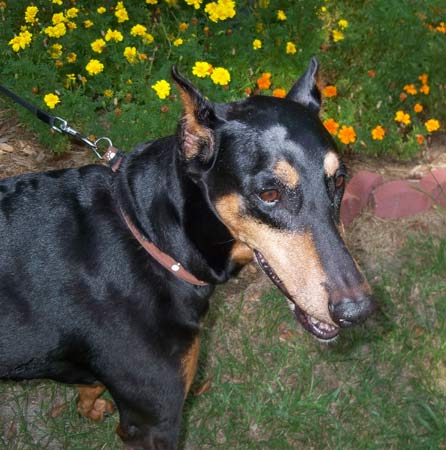 Meet Miss Josie of the Flowers!!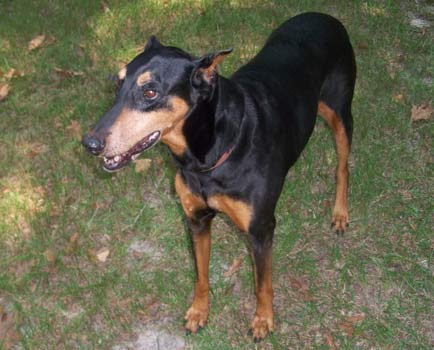 She's just waiting to travel on to star in YOUR garden!!
Sweet little Josie is an 8 year-old Senior who was surrendered to a shelter in Mississippi because her owners could no longer care for her. Due to her age and heartworm positive status she would not be put on the adoption floor. When a foster of Gulf Coast Doberman Rescue offered to pull and foster her Josie was allowed to go to rescue. Josie will start her heartworm treatment soon and then will need a dental. She does have a cough that is hoped to be a mild case of kennel cough and not a heart problem. Josie's foster mom adores her and says she is so polite. She is house and crate trained and does not get up on furniture. She will pull her doggie bed over to be close to her foster mom so she can nudge her for some petting. She enjoys car rides and is very good in the car. Josie's foster mom says she isn't old but experienced! This perfect lady would be a wonderful addition to any home that would appreciate all her wonderful attributes!!
Geographic areas: Louisiana, Mississippi, and lower Alabama
Special Needs: None at this time
Contact: Terri Valenti
Phone #: Please contact through email
Website: www.gulfcoastdobermanrescue.com
Email: GCDR@bellsouth.net
The Sponsor A Senior program helps Seniors by raising funds for their rescue programs. This helps offset some of the additional costs that come with caring for a senior (diet, medications, supplements, etc.). Please read more about this program on the Sponsor A Senior page.
Miss Josie is looking for a sponsor! The cost to sponsor a Senior Dobe is $40 per month or $480 per year. You can sponsor a Senior for one month, one year, or somewhere in between. To sponsor dear Miss Josie, use the PayPal button below or visit the Sponsor A Senior page for instructions on sending a check. Thank you for any help you can give, it is MUCH appreciated!