Meet Mr. Fritz!!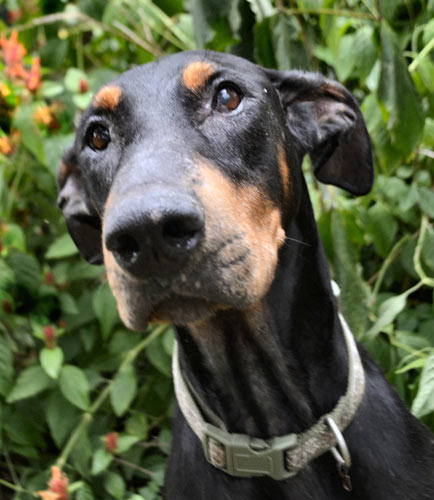 I was definitely "On the Fritz" when... tada! I did the "lean-in for love" and that...
gave My RescueAngels time to find me!!
Nine year-old Fritz was surrendered to a high kill shelter in Alabama by his "family" and his only hope was for a rescue to step in. With all the rescues full, his time was up and the shelter manager took him to the euthanasia room to prepare his shot. While doing this, Fritz leaned into the man with his Dober lean sending all his charm and love to the man. Unable to perform the euthanasia, the manager took Fritz back to his pen and put a note up saying "Rescue Coming" with no idea if this was even true. In the mean time word came to Gulf Coast Doberman Rescue that a foster was looking for a Senior to offer life-saving hope. They called the shelter and found out that Fritz was still alive and they sprang into action. Fritz is now safely in a foster home getting treatment for his demodex and heartworms. He will remain in this foster hime for the rest of his days and GCDR will cover all of his medical needs. It seems miracles do still happen and one Senior Doberman's charm made all the difference.
Geographic areas: Louisiana, Mississippi, and lower Alabama
Special Needs: None at this time.
Contact: Terri Valenti
Phone #: Please contact through email
Website: www.gulfcoastdobermanrescue.com
Email: GCDR@bellsouth.net