Meet Handsome Hank!!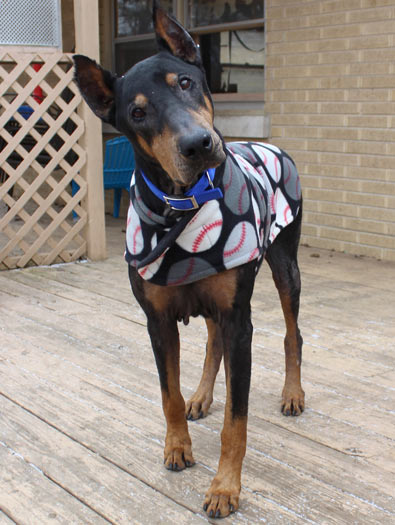 Wanna play ball?? White Sox, Cubbie??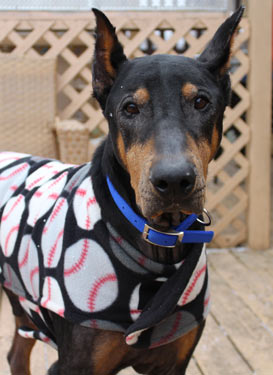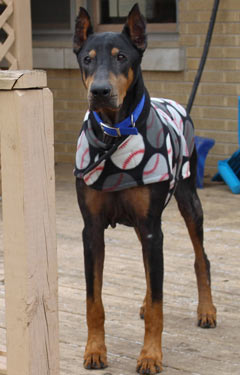 Let me slide on into your heart!! Won't you??

Hank is an 8-year-old Dober-gent who came to us from a shelter in Tennessee after his owner abandoned him when the cause of his skin issues couldn't be determined. Even though he is 8 years old he is perky and likes to go for walks, so don't tell him he's got gray on his muzzle! Although he might not be the most handsome dog on the block, we're betting he's got the best personality and demeanor. He's just a really good and sweet boy! As far as his skin issues are concerned, our vet does suspect he may have some demodectic mange (not contagious) or perhaps a grain allergy. His hypothyroidism (needs daily inexpensive medication) surely doesn't help since hypothyroidism also causes the hair to thin and can contribute to hair loss. We ran updated blood-work and will have medications adjusted accordingly. Don't let that deter you from adopting this sweet boy because he might just be the greatest dog there is! He is cool as a cucumber with the laid back dogs in his foster home but a dog with everlasting energy would probably annoy him. Hank has a low prey drive and completely ignores the cats. Actually, when he was hissed at, he a took a leap back! Little kids might be too much for him but he'll be a great friend for children 7 and up. Hank is a total smoosh with his people and hasn't met a stranger. When we took him to the vet, he had to greet everyone within reach with a Doberman nose nudge. Hank is house trained and does his business quickly outside. He behaves well gated to the kitchen and his foster doesn't think he will need to be in a crate, but perhaps a safe segregated area of the home. For obedience, he knows the command 'sit' but not much more. He is VERY treat motivated and has tons of spunk so will enjoy learning more commands. He's just a wonderful lover-boy who wants to snuggle up and get the attention he deserves. If you want to be the lucky person to adopt this fantastic boy.

Special Needs if any: inexpensive thyroid meds.

Geographic areas: Illinois and the surrounding states.

General Contact Information: Illinois Doberman Rescue will place Dobes in Illinois, Iowa, Indiana, or Wisconsin. See contact info above or go to IDR's website at http://www.ildoberescue.com for adoption information and application.

.