Baby!
We're thrilled to announce that Baby has been adopted!!
Status
Adopted!!

Age
10

Sex
Female

Color
Blue

Date Listed
11/30/02

Location
Barrington, Illinois

Rescue Group: ILLINOIS DOBERMAN RESCUE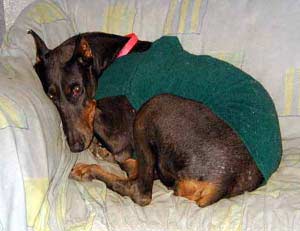 Baby was picked up several times for running loose, and on the final time her owner chose not to reclaim her. Baby is currently with her foster Mom and needs someone to call her own. She is a 10-year-old, cropped and docked spayed blue girl. As told by her foster Mom, "Baby is a very easy girl for us. She is great with all the other dogs in the home, but is dominant. She can be loose alone in the house, but will go through the garbage or counters if the house is not "Baby-proofed" before leaving. She loves to snuggle and does sleep in bed with us. She is a wonderful girl overall. She has an adorable petite body and is seeking a home with the manufacturer of Rogaine. She is almost hairless, which is good for those of seeking a low-shedding dog. What she lacks in looks, she makes up for in personality. She is crate trained, but does not need a crate. She is housebroken."
We're thrilled to announce that Baby has a new family!!!