Lady!
March 2013!!
Miss Lady has been adopted!!! Somebody just got lucky!
Happy, happy retirement Sweet, Sweet Lady!
HIP HIP HOOOORAY!!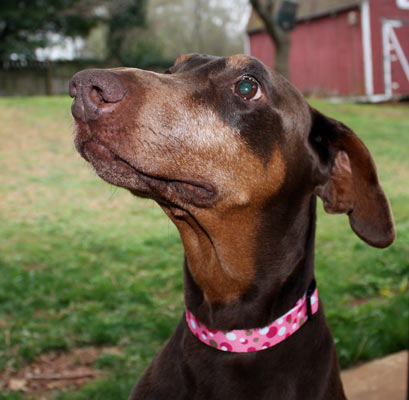 Meet The Lady!! She IS all that Pretty in Pink... STILL!!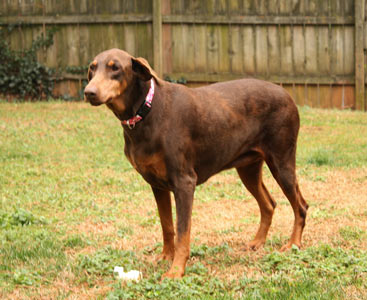 Did someone say "Sit Pretty?"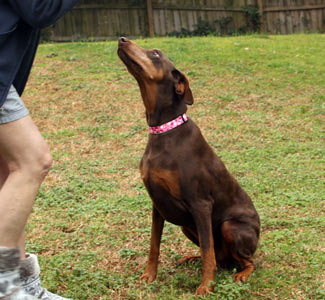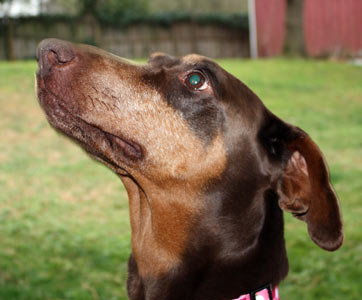 How's this? A true Lady never forgets how to sit pretty!! Treat Time!!

Sweet Senior girl Lady at 9 years-old was dumped at the Douglas County Animal Control in Douglasville, GA with the reason given that they were moving and could not take her with them. She was pulled from the shelter and is now in a foster home where she is doing well with the two male Dobermans in the home. She loves to play, is housebroken, and does not destroy anything in the home when left alone. She will need to be treated for heartworms and has been placed on medication for urinary incontinence. Lady would make any adopter a good companion and hopes to find her forever home as soon as her heartworm treatment is completed.
Special Needs if any: Medication for urinary incontinence.
Geographic areas: Georgia
Contact Information
Name: Jane Fratesi
Rescue: Atlanta Doberman Pinscher Rescue
Website: http://www.atlantadobermanrescue.com
Email: jfrat@mindspring.com