Cash!
October, 2017!! - Mr. Cash has been adopted!!!
HAPPY NEW LIFE!! Somebody just got lucky!
Happy, happy retirement Cash!
HIP HIP HOOOORAY!!
Meet Mr. Cash!!


"If you got the money honey... I got the time!"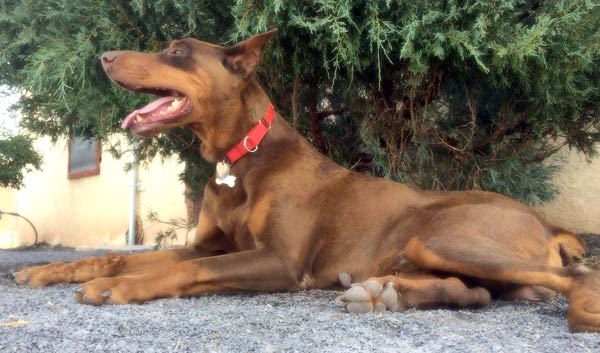 Make a dash for Mr. Cash!!
Seven year old Cash was picked up as a stray wandering around in West Texas. He was taken to a shelter where he remained for a period of time waiting for the rescue who'd tagged him to pull him. He was then placed in boarding and shortly after that the rescue decided not to take him. Finally, Saving Dobermankind stepped up to save the day. He was treated for tick fever, had growths removed from his left eyelid, and his infected lick granuloma on his foot was cleaned and treated for infection. He was recently neutered and had some large mamary tags removed once arriving to his foster home. He is a special needs gentleman due to injuries and his age.
Special Needs if any: Grain free diet due to a sensitive stomach, medications for his arthritis, ongoing treatment for his lick granuloma, follow up for his tendency to develop external bleeding hemorrhoids, no steps or stairs, and ongoing physical therapy.
Geographic Areas: Colorado and any surrounding state if a home visit can be done.

---
The Sponsor A Senior program helps Seniors by raising funds for their rescue programs. This helps offset some of the additional costs that come with caring for a senior (diet, medications, supplements, etc.). Please read more about this program on the Sponsor A Senior page.
Mr. Cash is looking for a sponsor! The cost to sponsor a Senior Dobe is $40 per month or $480 per year. You can sponsor a Senior for one month, one year, or somewhere in between. To sponsor Mr. Cash, use the PayPal button below or visit the Sponsor A Senior page for instructions on sending a check. Thank you for any help you can give, it is MUCH appreciated!