Edith!
Meet Miss Edith!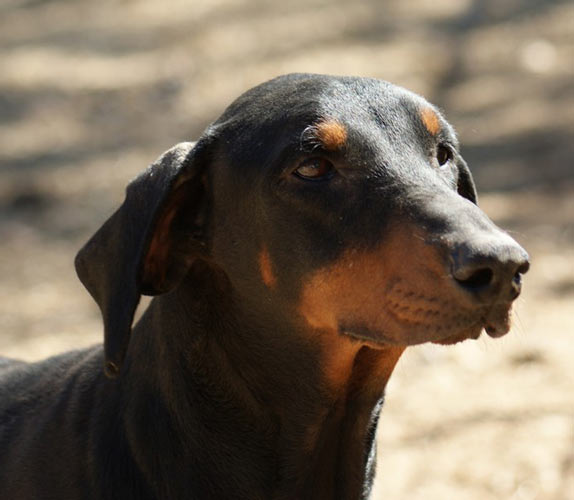 I used to be on TV - Edith - not Bunker...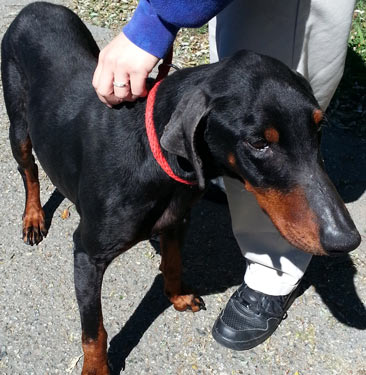 Especially since I lost my companion Archie... Have heart, will travel to yours!
At an estimated 8 years old, Edith was living out of dumpsters with her companion Archie in the Bay Area - and they weren't doing well at all. They were taken to a shelter where a medical workup was done. It was determined that they needed more medical attention than the shelter could offer so they were moved to Northern California Doberman Rescue who took them under their mighty wings. Unfortunately, Edith's best friend Archie was diagnosed with cancer and was sent to Rainbow Bridge with love to wait there for Edith. Edith is confident and secure most of the time but there are a variety of things that will trigger bad memories for her and she reacts inappropriately. This makes her adoptable to only the most knowledgeable person. Having said all that she has settled into the rescue and acts as a babysitter for new shy dogs coming in. She loves cookies and is very happy in her crate as personal space for naps and overnight. She is a small Doberman weighting only 50 pounds..
Special Needs if any: None.
Geographic areas: CA, NV, WA, OR
---
The Sponsor A Senior program helps Seniors by raising funds for their rescue programs. This helps offset some of the additional costs that come with caring for a senior (diet, medications, supplements, etc.). Please read more about this program on the Sponsor A Senior page.
Miss Edith is looking for a sponsor! The cost to sponsor a Senior Dobe is $40 per month or $480 per year. You can sponsor a Senior for one month, one year, or somewhere in between. To sponsor Miss Edith, use the PayPal button below or visit the Sponsor A Senior page for instructions on sending a check. Thank you for any help you can give, it is MUCH appreciated!