Meet Miss Rudi!!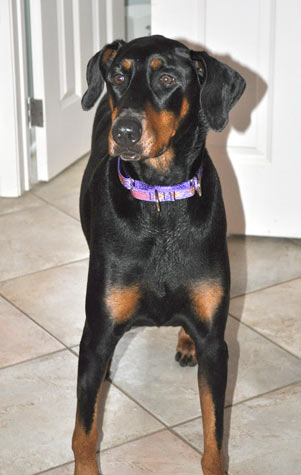 She did nothing to deserve her eviction... She's done everything to deserve the chance she's getting for a future!!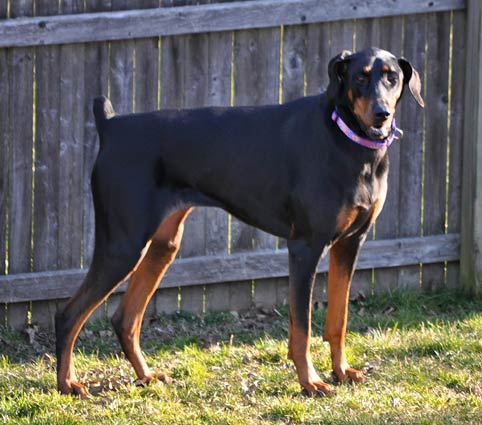 Won't you be a part of Rudi's Revenge? Living well IS the best revenge!!
Rudi is a beautiful baby doll of a Dobe, and one look at her beautiful face tells it all. She was loved by a family in NY -- loved, that is, until a new baby arrived, then Rudi was given the boot. Surrendered to Distinguished Doberman Rescue in PA, Rudi was placed in a wonderful foster home in NY, where she did very well until her foster parents noticed a limp. She was taken to their vet, who thought she exhibited hip trouble. When the foster parent's contacted Sue at DDR, it was decided that Rudi should come to PA for further evaluation.

What was discovered is that sweet Rudi has ligament tears in both knees; the left is completely torn, and the right is a partial tear. Given the nature of this type of injury, Dr. Anderson of PVSEC feels both knees could and should be repaired during the same surgery, on the condition that Rudi recuperates under the watchful supervision of RescueAngel Sue herself in her home. Rudi's surgery was done as scheduled for the 26th of April, and she will spend the night at the vet's to recover and get oriented. This will allow Sue some much needed time to prepare for Rudi's arrival home, where she will have an x-pen for confinement along with a comfy bed. She'll be able to walk, but no stairs, no running and no horseplay!

Sue just loves Rudi! She's absolutely all sugar, loves all people and dogs. The only thing Rudi does not like are cats... but everything else about this girlie is all about love. She's a gentle, sweet girl who is so very engaging!! Rudi loves, loves, loves to play, so please keep both her and Sue in your thoughts and hearts so Rudi has an uneventful recovery. You can be a part of helping Rudi by donating what you can so this dear girl can put this expensive double knee surgery behind her and DDR. Sue and her organization have helped so many dear Dobes. By helping Rudi, you are helping the wonderful work of Distinguished Doberman Rescue in Moon Township, PA continue. Please help us by sending tax-deductible donation online by using the PayPal button below, or by mailing one in. Helping rescues stay solvent means they can help other Dobes who need them! Every cent counts, so please help us now! Thank you for your continuing support of Dobermans in need!


Thanks for your help!!