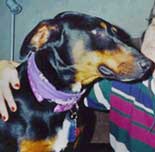 Blitzen is a one year old black/tan male Doberman with natural ears that was rescued by the Dean family in SC. Recently, while they were walking him on a leash, he backed up, got out of the collar and was hit by a car. Blitzen's bills so far have come to about $3,400 for the emergency treatment, surgery, boarding during recovery. Since his surgery, complications arose with his hip, so the costs continued to climb. The Deans are extremely attached to their new boy and want him to be as happy and healthy he can be! You can read more about this adorable boy on Blitzen's Page
---

Dakota is a 4 year old male Doberman living in Mc Henry, IL, with his owner, Le Anne Swantz and family, including two young girls and a red rescue Dobe. He contracted Blastomycosis, a potentially deadly fungal infection from the soil near his home. Blastomycosis spreads via the bloodstream or lymphatic system from the lungs to involve the eyes, brain, bone, lymph nodes, urogenital system, skin, and subcutaneous tissues. It has already cost Dakota his sight in one eye. He received to get the medication that he needed to save his life! You can learn more this fine boy on on Dakota's Page.
---
---

Shi is a sweet 8 year old Dobergirl, owned and loved by Hanni Cook in Powder Springs, GA. Two years ago Shi had surgery for a broken neck, which Hanni is still trying to pay off. Now Shi needs medication and supplements to insure that she remains pain-free and mobile. Hanni recently had a stroke and is having a very hard time making ends meet herself as of late, but all she seems concerned with is seeing that her best friend, Shi is happy and comfortable. SND was happy to help to provide the medicines and supplements that Shi needed. You can learn more on Shi's Page.
---

Sarge was a sweet 8 year old B/T Dobe. He was adopted 3 years ago from the Humane Society by Nicky & Shane, volunteers for Gulf Coast Doberman Rescue. Recently Sarge was limping so Nicky checked his leg for any obvious injuries, heat (infection), etc. Then a lump became evident on his leg. He was taken to the vet where x-rays revealed Osteosarcoma in his front leg. Chest x-rays were also taken- no meds at this time. Sarge was been given 6 weeks to live without amputation surgery. The vet recommended immediate amputation. Nicky and Shane paid $208 for Sarge's initial work up but did not have the funds for the surgery that he needed. Sarge had the amputation surgery which did buy him some quality time in the home where he was loved, but ultimately succumbed to the cancer. You can learn more by visiting Sarge's Page.
---

Alex is a sweet black/rust natural eared boy in the care of Doberman Assistance, Rescue, and Education (DAR&E). He came in after a vet called DAR&E because his owner did not want to pay to treat a urinary tract infection and wanted to have him put to sleep instead! DAR&E took the sweet boy into their program and later learned that he had stones! You can learn more by visiting Alex's Page. SND provided start up assistance to get Alex the care he needed, but due to the generosity of one of DAR&E's donors, his remaining bills were covered.
---

Peaches is a beautiful fawn Doberman, approximately 2 years of age in the care of Doberman Rescue Assistance and Education (DAR&E). As a pup, she had a severe case of demodectic mange which affected her eyelids, causing them to turn inward. Most of Peaches' life she has had to deal with fur and eyelashes scraping her eyes, but amazingly, the specialist does not believe that she has sustained permanent damage. Peaches has already had one surgery where the doctor worked on her lower lids, but she needs another, to remove more of the lower lid and some of the upper. (With this type of surgery, it is often hard to tell on the first surgery how much to remove and is common for a second surgery to be needed.) You can learn more by visiting Peaches' Page, After SND's initial assistance, a very generous DAR&E contributor made a contribution that covered Peaches' remaining treatment.
---

Pinkie ia a 1 year old female Doberman in the care of Doberman Assistance, Rescue, and Education (DAR&E). She has a very severe case of generalized Demodectic Mange. Since she came from the shelter, she has regained her hair and then relapsed twice. She is now on very expensive medication to try and cure her of this very stubborn strain of Mange. You can learn more by visiting Pinkie's Page. Since SND's initial help, a very generous DAR&E donor covered the remainder of Pinkie's care.
---

Toby was rescued from a local High kill shelter after his owner was deployed to Iraq. The Delaware Valley Doberman Pinscher Assistance (DVDPA) Volunteers could not let him die in a shelter while his owner was fighting a war. Toby tipped the scales at 150 pounds, He was a hairless Doberman that they soon found out had an infection in his system. He was very sweet and docile and his foster home just loved him. He had to be hospitalized twice in one month because of an infection in his system that had elevated his liver. Sadly Toby lost his battle. You can read more and see some pictures of this sweet boy by visiting Toby's Page. You can make a donation in his memory by using the PayPal button below.
---

Kaiser was a sweet 6 year old Doberman living in Louisiana with his owners, both students. When preparing to evacuate for Hurricane Ivan, Kaiser did a "split" on the tile floor. He began to have trouble walking, and initially it was attributed to his fall. When his condition began to worsen, Kaiser's owners took him to several vets for diagnostics, finally learning that he hand an atypical case of Wobbler's Disease. Since they had already borrowed a great deal of money just for the diagnostics, Kaiser's owners came to SND for assistance with his surgery. He was given a 50% chance for a full recovery, and no complications were expected, however, Kaiser died on the operating table. His owners are devastated, and the SND family send our most sincere condolences. You can read the whole story of Kaiser's ordeal by visiting Kaiser's Page.You can make a donation in his memory by using the PayPal button below.
---

Lamar is an adorable little black/rust male, approximately 1 year old. He was recently rescued from a GA shelter, by Jane, a shelter volunteer. He was immediately taken to the vet, where he weighed in at only 41 lbs (approximately 15 lbs underweight), had kennel cough, and an injured foot. Initially when he was in the shelter, the foot problem was thought to be a cut or bruised pad, but the vet exam revealed that it was an old injury. His leg has started to atrophy because he has not used it in so long. His leg required amputation, but he has since recovered and is doing great. He is now available for adoption. You can learn more by visiting Lamar's Page.
---
Princess was a very sweet 3 1/2 year old docked and cropped female Doberman in the care of Treasured Angels of Georgia (TAG) Rescue. She had a severe infection which has caused her mammary glands to abscess and it had also affected her rear leg, causing much pain and swelling. Sadly it was determined that the infection was caused by a very invasive and fast spreading form of mammary cancer and Princess was released with dignity. You can see some pictures of Princess, and read more by visiting Princess' Page. Please consider making a tax deductible donation in memory of Princess. Your donation can be mailed in, or you can use the PayPal button below to donate online.
---

Chuck Vaile of Doberman Rescue of Colorado agreed to accept a male Dobe from a NM shelter into his rescue. "Galen" was picked up as a stray; he was black and tan, cropped and docked and very friendly. Unfortunately he had some sort of injury in his hind quarters. He was very weak in the back legs and it seemed to be painful for him to walk. After a neurological/Wobblers exam it was determined that he was in the advanced stages of Wobblers. Aside from little feeling in his back legs, he had very little head mobility - no more that 20 degrees to the right and left and probably 30 degrees up from horizontal. He had extreme difficulty walking, he could barely get up after being down, and he frequently lost his balance when he got his front legs crossed. It was determined that the Wobblers was too advanced to treat, so he was released with love and dignity in the arms of his foster dad. Galen's story touched the heart of SND VP and President of Gulf Coast Doberman Rescue. About the same time as Galen's death, she took in a litter of pups into rescue. Click here to see a picture of the little guy named in Galen's honor.
---

Bella is a two year old girl who is in a foster home with SW Ohio Doberman Rescue (SWODR). Bella was found running the streets of Dayton Ohio. She was brought to a shelter in Dayton and then picked up by a SWODR volunteer Bella has been diagnosed with Mitral Insufficiency. It's a heart valve disease. SWODR needed assistance in paying for her meds, but due to the resourcefulness of SND VP Kim Gowland, a great deal was found on her medication and a six month supply was purchased for only $45!
---

Adonis was a handsome 2 year old male Doberman, owned and loved by Mary and family in Michigan. Recently he crashed and was rushed to MSU, where he received a blood transfusion. His blood cell count and platelets were extremely low and an immune disorder is suspected. Unfortunately, his emergency room visit cost nearly $1000 which was all Mary had, and she had to decline tests to get a firm diagnosis for her sweet boy. Fortunately Second Chance Dobermans' vet, Dr. Karen came to the rescue. She performed all the recommended tests and agreed to work with SND to insure that Adonis received the diagnostics and treatment that he needed. While waiting for the tests results to come back, Adonis needed more blood transfusions which Dr. Karen also did at cost. Sadly, when the results came back, it was revealed that cancer was killing young Adonis. He left this world in the arms of his mommy, who loved him very much. You can see some pictures of this precious boy, and read more by visiting Adonis' Page. You can make a donation in his memory by using the PayPal button below.
---

Zeus is a 7 - 8 month old male Doberman who came into the care of Recycled Dobermans after his former owner was going to have him put to sleep because of a corn cob obstruction. Luckily for Zeus, he was rescued just in the nick of time and received the surgery that he needed to save his life! You can learn more by visiting Zeus's Page.
---

Sydney is a sweet 2 year old blue girl, rescued by Doberman Rescue Group Oklahoma (DRG) after a couple saw a man beating her at a flea market and managed to get possession of her! It turns out that Sydney had several growths that had to be removed and analyzed and, of course, she had heartworm. You can learn more by visiting Sydney's Page.
---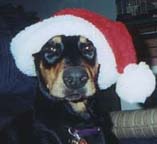 Destiny is an irresistible young Dobe who needed surgery for a suspected obstruction. She had not had a bowel movement in days and had started vomiting blood. Her owners did not have the money for the surgery and went on a frantic search for help. Happily they found SND! Destiny had the surgery and although no blockage was found, the manipulation of her intestines got her bowels working again and she is now back to being a happy girl! You can learn more by visiting Destiny's Page.
---

Samson is a 2.5 year old male Doberman, living in Fort Collins, CO with the Cacciatore family. Recently Samson was not acting like his happy, playful self and his "mom" took him to the vet. It was learned that he had an intestinal obstruction! This is on the heels of a freak accident where Samson broke his leg last year that drained the Cacciatore family's savings. SND was happy to provide help for Samson with his surgery and recovery. Please visit Samson's Page for more information.
---
Lily came to Doberman Rescue Group Oklahoma by way of LRAS when a plea for her rescue was posted to the SND Cafe list. Lily is about 1 1/2 years old, emaciated and very sweet. It appeared that Lily's spine was fused and there was a problem with her hip, so X-Rays were done when Lily was spayed. It turned out that her hip had been out of place for so long that it could not be put back in place. Instead the ball had to be removed. DRG had been hit hard with a number of expensive cases recently and needed our help with Lily. You can see additional pictures by visiting Lily's Page.
---

Pam at Redlands Rescue in Florida has a 2-3 year old black/rust dobergirl who has been hit by a car. The Broward County ACC called Pam because this dog had been there several days and needed to see a vet. It was a Chinese fire drill trying to get this girl diagnosed. Bottom line, the leg (femur) was broken way up high. She needed surgery and a plate put in so that she could heal properly. Initially she was at a vet's office that would not work with Pam or us. That estimate was $3500. Pam has moved her to a less expensive office, South Dixie Animal Hospital in West Palm Beach, FL, where Dr. Zeitlin, a Dobe lover, is the attending physician. Marcy has had her surgery and is in good spirits, getting the kind of love every Doberman deserves. You can see additional pictures by visiting Marcy's Page.
---

Jimmy is a one year old owner turn-in to Doberman Rescue of Colorado. He is a sweet red neutered boy with natural ears. Unfortunately, Jimmy has a bad case of mange. The vet has now recommended that the condition be treated aggressively. First, will be an analysis to determine if there are auto immune issues in addition to the demodex mange. You can learn more by visiting Jimmy's Page.
---

Ricky is a young fawn Doberman in the care of Doberman Rescue of Colorado. He is blind due to detached retinas. He is received treatment to restore his sight. You can learn more by visiting Ricky's Page.
---