Meet Master Obi-Wan!!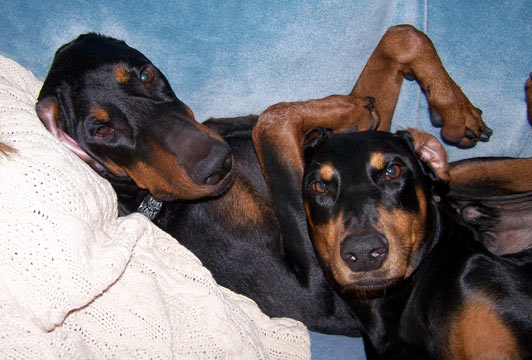 I always recline when imparting knowledge as I anoint another Jedi Knight!!
(that would be me on the left... see the glow around me??)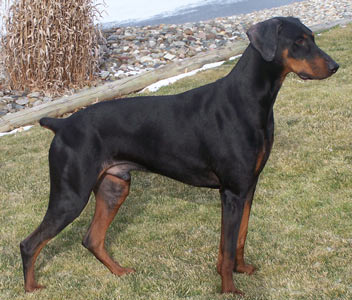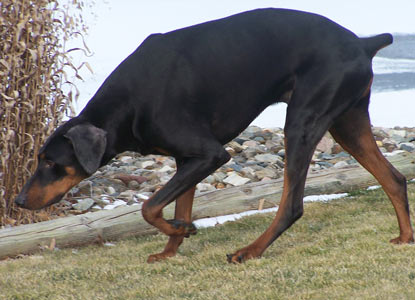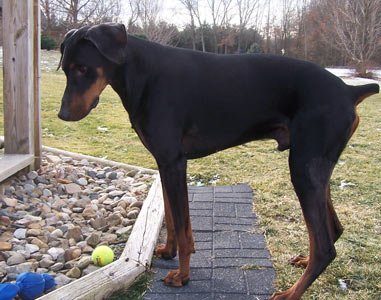 Master Obi-Wan on patrol for evidence of the Dark Side...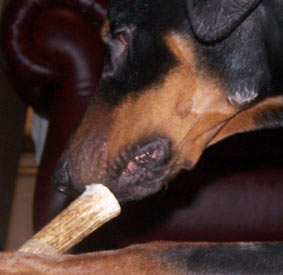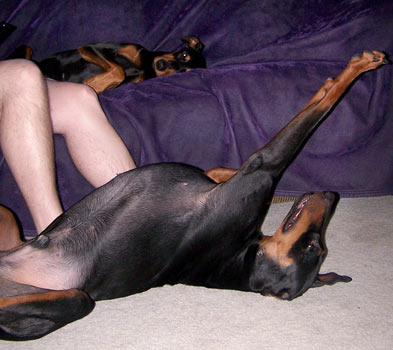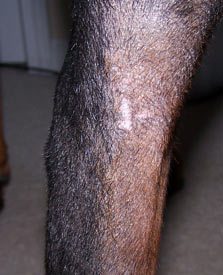 Lymphectomy1 Use the Force CCNU! Use the Force!! Lymphectomy2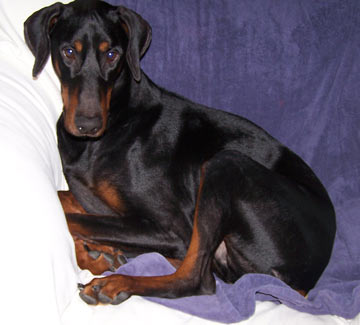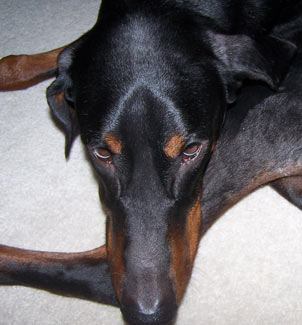 Won't you please help me fight the evil inVader?? May the Force be with me... and you too!!
Meet Obi-Wan! No, not the guy in the hood from Star Wars. Our Obi-Wan is a four year old boy that is just breathtaking to look at. As you know if you read the index page he has Follicular Lymphosarcoma. This is just the latest trial for this young Dobe.
He was put on Craigslist, by whom and for what reason we do not know, but the person who got him from the Craigslist ad was not to be his saviour!!! She, yes she, wanted a big mean guard dog and began to abuse him mentally and physically to make him mean. Well, this sweet boy was having none of this and would nor could ever become a big mean guard dog. Sooooo, this poor excuse for a "creature" decided to get rid of him at the local animal shelter, but fortunately this act was intercepted by Ann from Dream Paws Rescue in Indiana last September. Ann found him a forever home, wonderful right? Well maybe not, at the end of a home visit for his forever home she massaged his neck and noticed his submandibular lymph nodes were enlarged. Ann immediately got an appointment with a nearby vet. The vet suspected lymphosarcoma and did a lymphectomy. The findings were positive and he was then taken to Michigan Vet Specialists in Grand Rapids, MI to confirm the diagnosis and obtain a course of action.
Ann was given several options for chemo and they have decided to go with the CCNU oral chemo therapy. Which will be six treatments, one treatment every three weeks for a total of 18 weeks of treatment. The prognosis is 8-12 months to remission, if there is no remission, then it will be repeated. The cost of this treatment is astounding, $340 per treatment plus follow up x-rays and blood work! Obi-Wan is now on steroids and will be for a short time into the chemo treatment. We are looking into reducing the cost of these treatments by procuring compounded CCNU from our favorite compounding pharmacy, Diamondback Drugs.
Dream Paws Rescue has annual funds of only $1000 for surgeries and emergencies for all of its rescue activities, so you can see the need. They love this boy and want to do everything possible to get him to remission. Obi-Wan is in the very caring and capable hands of his foster mom Laura, who is willing to do whatever necessary for this super boy, which includes driving him wherever he needs to go for treatment. He will be doing follow ups at MVS in Michigan which is over 2 hours for Laura to drive, but she is more than willing to do whatever it takes. Ann and Laura report that Obi is one of the sweetest dobes they have ever encountered. He lives, in his foster home with small children, dogs and cats and is very gentle with all. His favorite thing to do is retrieve his wubba toy, yes he does retrieve!!! His second favorite thing to do is snuggling and snuggling, and with an 84 pound doberboy, that will keep you warm at night for sure.
This boy has been through a lot in his short life and deserves a chance at a good life with people who love him. So, if you have been touched by Obi-Wan's story please do whatever you can to help us financially to help Obi and Ann and Laura save this boy's life. You can help by making a tax-deductible donation on line by using the PayPal button below, or by mailing one in. Thank you for any assistance you can provide for Obi-Wan's treatment expenses to give another Dobe a chance at a wonderful life. AND MY THE FORCE BE WITH YOU AND WITH OBI-WAN!