Meet Miss Libby!!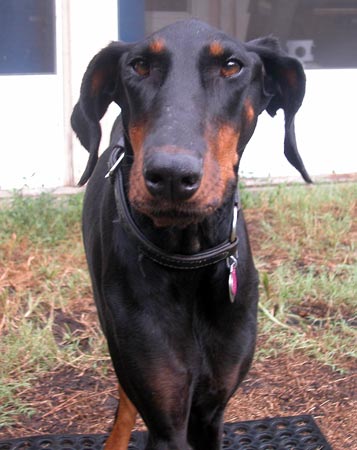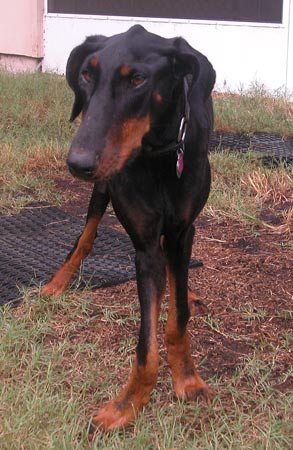 She's got a ton of problems to be sure... but she has a TON of HEART to match!!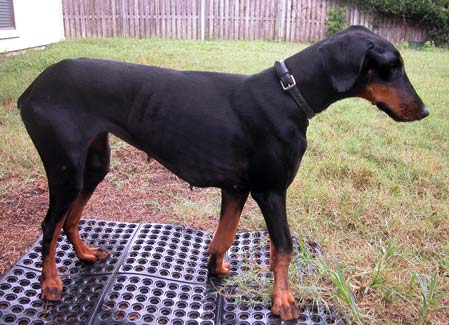 I can handle anything... except maybe bleeding to death!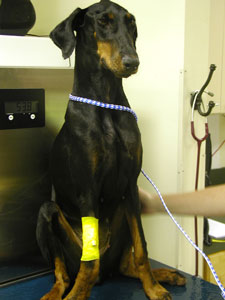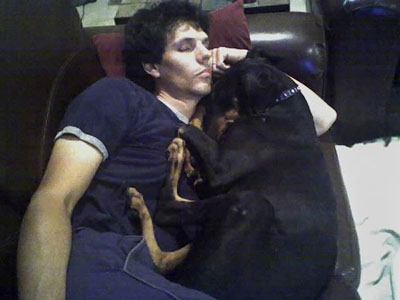 Help me get that threat vanquished so I can get back to some serious naptime with my BFF!!
Beautiful Miss Libby has seen much more of her share of serious illness. Saved from the Jacksonville Shelter by Judy of Dobie Rescue North Florida about two years ago, poor dear Libby had a horrible undiagnosed fungal infection and deformed limbs. Judy has saved countless Dobermans, and when she saw Libby, she had to help. Shortly after her pull from the shelter, Libby started bleeding from her toes - the nails would just fall out, and her paws would bleed... then the nosebleeds came. Finally, after getting her cured of the fungal infection - still the worst Judy has ever seen - Libby was diagnosed with very low vWd factor. If you're a DobeLover then you know that von Willibrand's is a clotting disorder common in our Dobermans. The degree to which a Dobe is affected varies and dear Libby's is considered severely affected. Judy spent many hours soaking Libby's feet to prevent bleeding and infection and dear Miss Libby would simply stand in place, just knowing her treatments were meant to help her.

Libby has been placed in a wonderful foster home with Shanna, and lives with three other Dobermans. She's done remarkably well, her deformed limbs are the result of malnutrition and she requires no therapy. Recently, Shanna and her husband were able to get Libby spayed. A very dangerous surgery for any vWd Dobe, and dear Libby came thru with flying colors. However, it was during this surgery that Libby's vet discovered that this dear little girl's spleen is enlarged and had a suspicious nodule. Libby's vet did not dare to remove her spleen at the time of spay due to her vWD. More investigation was needed before a decision could be made, as an enlarged spleen can mean hemangiosarcoma -- an aggressive malignancy.

Now for some good news -- Libby is cancer free. However, there is a danger that the nodule on Libby's spleen could rupture, and there would be no saving her. Libby desperately needs to have her spleen removed as soon as possible, and that is where we at SND comes in to help this small rescue afford this life-savign surgery. Any surgery with a vWd Doberman is incredibly expensive, requiring clotting factor and whole blood. The price of clotting factor is outrageously expensive, as I personally can attest to, but absolutely necessary for surgeries. Both Judy and Shanna have paid in full for both the fungal infection, the vWD diagnosis, and the spay surgery, and now Libby needs us for this one last surgery to save her life. Please take another look this noble, sweet and courageous little girl and open your heart and wallets. Every penny counts AND they do add up!!
Judy and Shanna continue to do their part in helping Libby get her surgery. They will be posting Libby's SND page in poster form at some of the restaurant's Libby frequents with her Foster Mom (were she is very, very popular... :)) and Judy and Shanna will be doing everything they can think of to raise funds for this expensive surgery. Let's all join in and help this dear little cuddle Dobe live the life she so deserves... and thank you from Libby and all the wonderful RescueAngels of Dobie Rescue of North Florida.
Won't you join Libby's Angels and SND in assisting her get (and pay for) this expensive but life-saving treatment? You can do this with a tax deductible donation toward Miss Libby's surgery! Miss Libby, her Foster Mom Shanna as well as the RescueAngels at DRNF joined by SND will be very grateful for any assistance you can offer. No amount is ever too small! Just click on the PayPal button below, or, if you'd like, you can send a donation by mail. Thank you so much for your continued compassion and support for these Special Dobes and for your support of SND too.