Meet Mr. Gunther Maxwell!!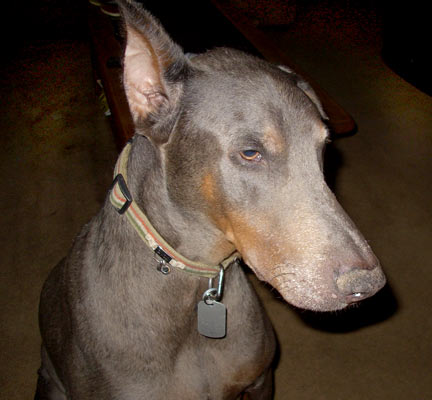 Mr. Gunther Maxwell reflecting on life...??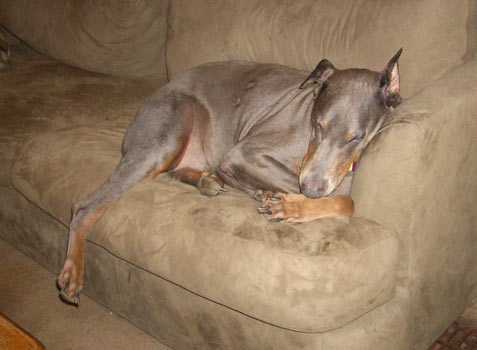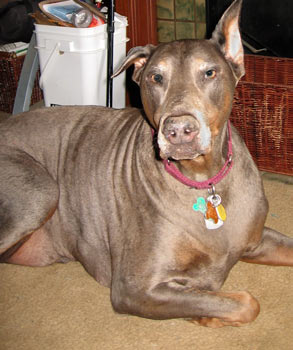 I was taking a nap... and then... It was the Titanic all over again!!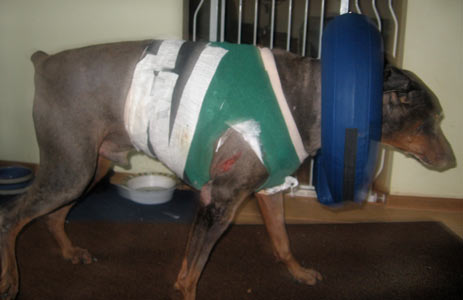 Iceberg dead ahead!! Dobermans & Women First!!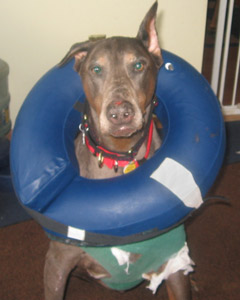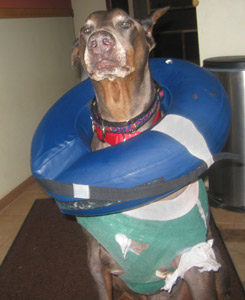 Don't I look like I survived that? YES!! Now the SOS is for my RescueAngels!!
Gunther's people asked a neighbor to take care of him while they went on vacation. However, they never reclaimed him, they wouldn't even answer the neighbor's calls. They simply turned their backs on him after 8 years of the kind of dedicated Dober-love we know Dobes deliver. I, personally, would like to tar and feather these callous "beings" for abusing him for all those precious years. The neighbor had 6 Min Pins of her own and could not, would not, absorb Gunther in her home so she surrendered him to North Coast Doberman Rescue. Good thing too as the Min Pins were driving him nuts. These events were probably the best things to happen to him in his entire life as he went to FosterDad Michael's loving arms and warm bed.
Gunther is the Garfield of Dobermans. He decided to become a couch potato because he knows potato has something to do with food. He is very mellow and laid back, happy as a clam in his own gaseous cloud. Remember, when you were a kid, the grumpy uncle who always kind of growled under his breath and always had a full plate? That's Gunther...He always volunteers to help with any kitchen task because he knows somehow, someway food will find it's way to his mouth. After dinner he loves to climb up on the couch and get comfy to watch the news - which he sleeps through - smart Dobe!! Gunther plays a great game of rope-tug, all you have to do is hang on to thrill him. No tugging required. This is such a lovely soul, I can't believe his family didn't cherish him. Michael says he knows it's hard for Gunther to look back because of the great pain, but like the Super-Dober-dude he is, he keeps his head up, looking to the future. I hope he has considerably more time with Michael than the year they've had so far, which is where we all come in. I'm a 'for sure' member of the Gunther fan club. I see so much in him to love and cherish. He even knows how to get guests to leave when it's past time to go.... and it's called Green Cloud Wind Passes. If you don't donate to his cause for any other reason, do it for that... or am I the only one familiar with Dober gas attacks?
Michael says one of the things Gunther likes very bestest is being under the bedcovers, all snuggled in and warm. He goes on to say Gunther may be older but he still has all the love of a puppy to give, even while the wisdom in his eyes shines brightly. Even grumbly, gassy old guys need love, hugs, kisses and treats...Won't you help Gunther keep on livin' large?
Gunther was diagnosed with degranulated mass cell tumors. While this can be benign, it seldom works that way. Otherwise his test results look pretty good for a neglected senior Dober-dude. His blood count is stable, his clotting time is good. His packed cell volume count is low, but he has lost alot of blood so that is to be expected. His platelet count is good. His lungs look normal and no nodes are visible. As of now he is resting well and eating. His incised areas look good. Even the big, bad spot, although still under a pressure bandage, has not bled through; a VERY good sign the bleeding has been controlled.
Through it all Gunther has remained in good spirits, and FosterDad Michael has tried very hard (and has succeeded) to give him stability so he would feel safe and loved. He is truly a super guy who specializes in being at peace and centered.
Please consider helping Sweet Mr. Gunther Maxwell, NCDR and SND and in any way you can. You can do this by clicking on the Paypal button below or by mailing one in. Remember, every penny adds up and no amount is ever too small! We all thank you for any assistance you can give!!