Meet Miss Elizabeth!!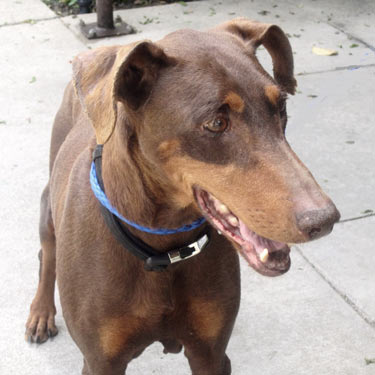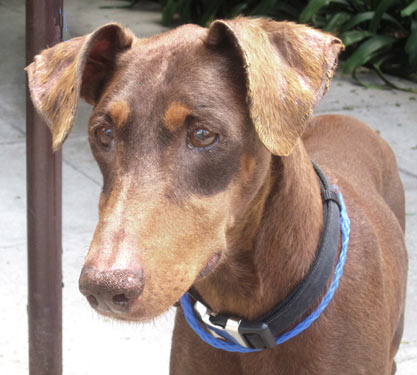 Just wondering if there's an answer to this...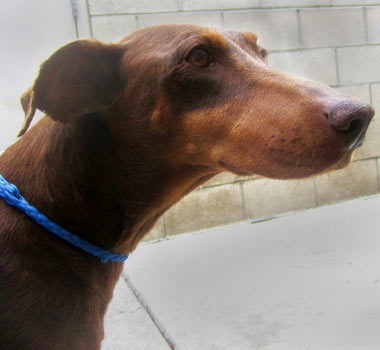 Can you help me understand how anyone could watch this happen and do nothing??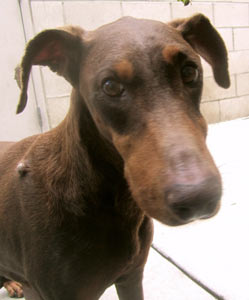 Help is on the way thanks to my RescueAngels!!
Described as "very special" and "super sweet," Elizabeth nonetheless found herself in the Carson Animal Shelter - one tough place for such a gentle girl. She'd been picked up as a stray, and we can only assume that she was abandoned by her "family" because of the very large tumor on her belly - this after being their personal puppy mill from the look of her mammaries. Doberman Pinscher Rescue of Fillmore was alerted to Elizabeth's presence in the shelter, and right away Robert, Dobe-Lover and Angel, drove to the shelter and rescued this wonderful red girl. It was love at first sight, as Robert says Elizabeth "spoke to his heart" - which by the way - is a very big target!
Next stop was an X-ray to verify if the growth, presumably a mammary tumor, had metastasized to Elizabeth's lungs. The good news is, her lungs are clear! You can see by the size of this growth this is a tumor that has been developing for a long time. Right now, it's very large, and Elizabeth also has a small growth in the roof of her mouth that the vet believes is not connected to the larger tumor. Whew! She's also not spayed, so our sweet girl has some very costly medical bills coming up.
Elizabeth is currently living at a boarding facility at a veterinary clinic, as Doberman Rescue of Fillmore has no room at their shelter. They, like so many animal rescues, are full and overflowing. But, the vet is close to Robert, who drives over to walk and play with Elizabeth every day. Robert says he would adopt this girl in a second, but he already lives with three Dobies, and that's his limit! The quote from the vet for Elizabeth's surgeries is $2500. The Amanda Foundation, a nonprofit that rescues dogs and cats and performs necessary medical treatments, has offered to help Elizabeth for $1200, a huge savings! But, Doberman Pinscher Rescue has very limited funds at this time, and that's where SND steps in! This super sweet, petite and delicate girl is affectionate, a total love bucket, and an expert in the Doberman Lean! And you can help her!!
Make a tax deductible donation in Elizabeth's name by clicking on the PayPal button below. Or, a donation can be sent by mailing one in. No amount is ever too small, and EVERY penny sent to Special Needs Dobermans goes to help the Dobes-in-Need. Thank you so much for your continued support and compassion.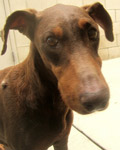 Thanks for your help - I knew you'd understand!!