Meet The Duke!!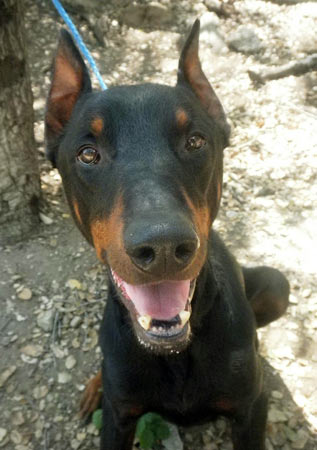 Like his namesake The Duke... This DobeGuy has True Grit!!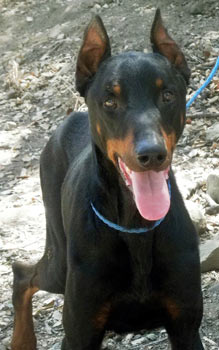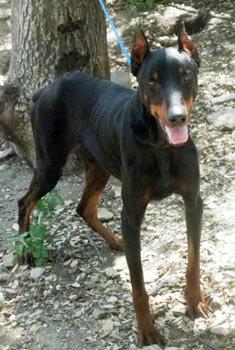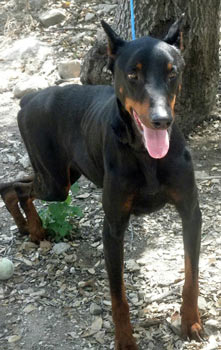 That IS what it takes to survive 6 years and then get thrown away - his body suffered...
but NOT his spirit!! He's The Duke, The Indomitable Duke... he's a DOBE!!
Please meet Duke - a beautiful and loving 6 year old DoberGent. Duke was surrendered to the animal shelter in Carson, California, because he was having trouble walking. His owners told the staff that Duke had hip dysplasia. The shelter called the great folks at Doberman Pinscher Rescue who went into action, rescuing Duke immediately. Knowing that Dobies don't get hip dysplasia often, Duke went for a medical exam right away. The rescue volunteer and the vet both agreed that Duke did not have difficulty walking; rather, he seemed to have an unusual gait and rear conformation: Duke swayed a bit on his rear legs.
Duke was given a thorough exam, which included X-rays, a complete blood panel, sub-q fluids, and a good listen to his heart. All seemed well until a fecal exam revealed a heavy load of parasites. Poor Duke had 'em all: whipworms, roundworms AND tapeworms! This poor guy was emaciated, but refused food. The vet's diagnosis? Duke was in a very weakened condition from parasites and probably a secondary infection. He was too weak to walk, and his lethargy resulted in loss of muscle, and thus his wobbly gait.
It took a few days and some ingenuity, but Duke's RescueAngels - his posse, pilgrim - found some particularly yummy food, and got this big guy eating. Right now he's being treated for parasites, and he's improving every day. He's still skinny, and he's still swaying a bit, but the prognosis is good. The updates from Doberman Pinscher Rescue say that Duke is a real special guy. He's a leaner (is there a Dobe who isn't????) and he LOVES people. Ardis, from DPR, says she is SO glad to have saved The Duke.
You can help Duke continue getting bigger and stronger! Make a tax deductible donation in The Duke's name by clicking on the PayPal button below. Or, a donation can be sent by mailing one in. No amount is ever too small, and EVERY penny sent to Special Needs Dobermans goes to help the Dobes-in-Need. Thank you so much for your continued support and compassion.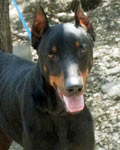 Thanks for your help Pilgrim!!